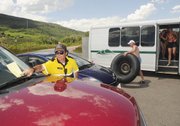 Steamboat Springs — More than 1,000 tubers, rafters and kayakers floated the Yampa River on July 4, a number that could underscore a need for improved management techniques.
Steamboat Springs resident and avid flyfisher Scott Ford surveyed the river's Fourth of July usage as part of an effort to quantify the use of the popular waterway. The need for such statistics was raised this spring as local officials and Yampa River advocates discussed how best to manage the river.
Although Ford said Tuesday that the popularity of tubing and river recreation is a good thing for those enjoying the trip, he thinks it means the river should be managed as an amusement park.
In the past, fishers and tubers have sparred over river usage, but Ford said the massive number of tubers should be a clear indicator that user groups should instead work together to clean up the mess left behind.
Ford said he saw hats, sunglasses and flip-flops float by as tubers' "unintentional littering" accumulated through the day.
"It's really gotten to be - and there's nothing wrong with this necessarily - to be an attraction we need to manage more and more as an amusement," Ford said.
"I saw a lot of people having fun, and the river is a shared resource, and as such those of us who live here have to figure out a way to clean it up."
Ford kept count of the number of river users throughout the day in order to have concrete statistics to use in Yampa River Management Plan discussions.
"The popularity of tubing the river, I think the numbers are much larger than people may have given thought to," he said.
At an April meeting of the Steamboat Springs Parks and Recreation Commission, the city agreed to increase efforts to write tickets for littering, parking violations and alcohol infractions but not enact any new regulations on river usage.
Part of the problem involves what sections of the river tubers use.
Commercial tubing outfitters are required to put-in at the Fifth Street Bridge or lower; many private tubers, however, head to Rotary Park and tube a much longer stretch of the river - including areas where the Colorado Division of Wildlife has dedicated significant dollars to improving fish habitat.
Private tubers also don't have the commercial guides to remind them of the rules and prevent alcohol consumption and other issues.
During April's discussion, it was noted that there is no concrete data to gauge how many tubers are using the river, and Ford agreed to take the lead in studying the issue.
Ford said he counted more than 900 users on one branch of the river after it forks near Dr. Rich Weiss Park between 11 a.m. and 4 p.m. July 4. He said given the likelihood of at least 10 percent of the users floating the other fork, he estimates more than 1,000 tubers, rafters and kayakers used the river during that time.
In the time he was counting tubers, Ford said he saw one lone fisherman, floating down the river in a drift boat, surrounded by a flotilla of tubers and rafters.
"Is there user conflict? Absolutely. It comes down to if you were trying to fish the river on the Fourth of July or even (Tuesday) afternoon, there would be huge challenges," he said.
Ford said he did not see any intentional littering, but there were plenty of beer cans floating along.
"As the afternoon went on, and more beer was consumed, it became a mixture between Fort Lauderdale spring break and Mardi Gras," he said.
Steamboat Springs Police Department Capt. Joel Rae said Colorado Division of Wildlife officers patrolling put-in points on the river called for police to respond to drinking in the parking lots and parking violations.
As DOW officers turned tubers with open beers away from the river, some would begin to drink in the parking lots instead, Rae said.
In response, police ran extra patrols and enforced two-hour parking limits at Rotary, Fetcher and River Creek parks. Rotary and Fetcher parks have only two-hour parking, and River Creek Park has two-hour and daylong parking spaces.
Rae said he was not aware of any tickets issued for open container violations during the extra patrols, but officers did issue tickets for parking violations and warnings for drinking.
Rae said any minors found drinking would be ticketed.
Cleanup efforts
Ford hopes to see user groups band together to clean what they can from the river.
"The more it looks like a trashcan, the more people will treat it as a trashcan," he said.
Peter Van De Carr, owner of Backdoor Sports and member of the Respect the Yampa campaign, said the group plans to hold a cleanup day as soon as the water levels drop.
"It's more effective to clean the river when there's less water in it," he said. The river was running at 529 cubic feet per second Tuesday afternoon, and Van De Carr said it's best to have the river below 300 cfs in order to clean.
He said he hopes to organize local groups to participate in the cleanup day, although he can't yet predict when the river will be low enough.
He said the fast-flowing river also was a contributing factor to trash because many people got tipped over or lost their belongings.
"I see our job with the Respect the Yampa campaign is to have people take nothing with them. Anything they take with them will potentially turn into litter," he said.
- To reach Zach Fridell, call 871-4208 or e-mail zfridell@steamboatpilot.com