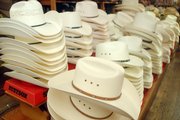 Steamboat Springs — Want to know something about a Stetson?
Maybe you want to know how to shape, steam or care for a classic felt cowboy hat. Perhaps you're more interested in where and how the hat company started. Or maybe you'd just like to know what style best fits your head, face and body.
Dick Maday can fill you in on all of it.
"The most asked question of anyone is what do the X's mean," Maday said. "The X's mean a standard of quality."
On Friday at a retirement party at F.M. Light & Sons, Maday was wearing a straw 1,000X Stetson. That's as good as they get.
Maday retired this month after selling Stetsons to retailers for 33 years. He represented the company to F.M. Light for about 24 of those. At the party, the Yampa Valley Boys played a song they wrote about Maday. Customers and employees drank pink punch and cut into a cake bearing his photo.
"We are here today to celebrate a man who has been a tremendous help and blessing with our store," said Del Lockhart, who owns the store with his brother Ty.
Maday worked the room, talking to skiing legend Billy Kidd - who has his own Stetson line - and shaping hats.
"Look at him," Del Lockhart said with a smile. "He is no longer working for Stetson, and he's over there steaming hats."
Lockhart and Maday weren't sure whether F.M. Light sold Stetson hats when the store opened more than 103 years ago. Stetson started making hats in 1865, however, so Maday said he'd "almost bet the house on it."
"This is the oldest Stetson active account west of the Mississippi," Maday said about the Steamboat Springs store.
Getting started
Maday joined Stetson after the closure of five department stores he managed. Those were in Missouri and Kansas, and Maday originally represented Stetson in Missouri, Iowa and Minnesota. He moved his family to Colorado Springs in 1985 and changed regions.
When he retired, Maday was serving Colorado, Wyoming, Kansas and Nebraska. He's traveled about 1.7 million miles and sold about 1.4 million hats.
Maday's daughter Amy Maday attended the celebration. She was surrounded by hats growing up, and her family took vacations as part of Maday's business trips.
"It was something I grew up with," she said. "I was a year and a half old when he started, so I didn't know any different."
She's got plenty of fashionable and traditional Stetsons and said she's well versed in hat etiquette and care because of her father. Amy Maday didn't take after him professionally, however. She's a teacher.
A sticker near F.M. Light's hat counter endorses the brand: "Life is short, wear a Stetson." Country singers Garth Brooks, George Strait and Tracy Lawrence do, Maday said. The company looks for up-and-comers to represent its classic brand.
Stetson has given hats to every president for more than 30 years, and Maday said the company just sent two to President Barack Obama.
Stetson helps out with movie wardrobes, too. When "Urban Cowboy" with John Travolta came out in 1980, Stetson sold out its production for the entire year in 30 days, Maday said. The company makes 3,000 hats a day, which it produces in factories in Texas.
Michelle Bauknecht has worked with Maday as F.M. Light's buyer for about 20 years. She came from the ski industry and hit a sharp learning curve when it came to Western wear. Maday helped her over that, Bauknecht said.
"He's been one of the best" representatives, she said. "And just for me starting out not knowing anything about hats, it's been great. : He's been an important part of our store."
Customers love Maday, Bauknecht said.
"Every year he comes out here, somebody wants him to autograph his hat, and he gets all embarrassed," he said. "I think that says a lot about him that someone wants to have his name in their hat."
Maday was named salesperson of the year for the entire Western industry at the National Western Stock Show in 2008.
Dave Morgan and Darel Kesner represent Scully clothing and Dan Post Boots, respectively. They were on hand this weekend to do fittings for customers, and both spoke glowingly about Maday.
"A good friend of mine that's also a hat specialist, he was the one that told me you have to meet Dick Maday," Morgan said. "So when your competitors speak highly like that of you, it's a great thing."
Lockhart and Kesner praised his personality.
"The one thing that has been his hat that he has worn since the day I met him is integrity," Kesner said.
Living with Stetson
When Maday travels, he said, he takes two straw hats and two felt hats.
"You can feed your horse out of it, you can water your horse out of a Stetson," he said. "That's the reason it's so popular."
True Stetson hats have a hologram showing their authenticity, he said. Premium hats range from $160 to $5,000.
A Stetson can last forever, he said.
The straw hats are waterproof. A felt hat that gets soaked probably will need to be reshaped - but it isn't ruined, Maday said.
He stopped Lloyd Lockhart in the store to admire his felt hat, which is a soft gray called silverbelly.
"You try to get a hat thin and tight with a kitten finish," Maday said, referring to the softness of the hat. "He's got the ultimate hat."
Maday's daughter said hats were a passion for her father. She expects him to adjust well to retirement.
Dick Maday lives in Colorado Springs and plans to spend his retirement fly fishing, playing golf and being with his family.
Amy Maday said she thought Dick Maday might miss working with Stetsons each day.
"It's something that he loves," she said. "It's not really a job. It's become a passion, a hobby, second nature."