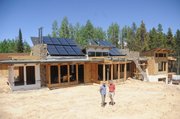 It's easy to declare a house "green," Michael Mow said, but without the proper testing and certification, that label can just add to the atmosphere's hot air.
To really have a "green house," certified by Routt County and Steamboat Springs, and to earn a platinum rating from the Leadership in Energy and Environmental Design, or LEED, Green Building Council, Mow's house is going through extra tests and certifications during construction. By the time it is complete in September or October, the Stagecoach house likely will be the fifth platinum-certified house in Colorado.
Michael Mow and his wife, Jo Ann, are aiming to make their house 90 percent more efficient than the 2006 International Energy Conservation Code, with extra insulation and enough solar power generation to produce as much energy as it uses throughout the year.
The Mows' 4,495-square-foot house, perched at the end of an unpaved road and surrounded by trees, has 14 solar panels already installed on the roof, though no walls are yet in place. Those panels will work to heat the water and in-floor heating throughout the home, while an extra photovoltaic set of panels, to be installed outside, will take care of the home's other energy needs.
But Michael Mow, a retired financial analyst who currently lives in another part of Stagecoach, said making a responsible house takes more than just insulation or solar panels.
"We're trying to minimize the imputed energy for imports. We'd like to have a granite countertop, but that has to come from China or India," he said.
Instead, the Mows will use concrete, quartz and sorghum-based countertops from Colorado. They plan to recycle or reuse 90 percent of construction waste, and beetle-killed lumber already is in place in some of the ceiling elements and soon will be installed in more.
"We're not reaching for any one tool or component to be the magic bullet," Michael Mow said.
Chad Feagler, of Mountain Energy Consultants, said the strength of the house is how well all the elements work together: solar panels, passive solar, concrete insulation, extra wall insulation and more.
"This is sort of the way building is going to be going in the next few years," he said.
Feagler has been working with the Mows to monitor and verify the energy savings from each of the home's components.
Andy Johnson, the Louisville architect who designed most of the energy-saving items in the house, said the effort to be a green house added 7 percent to the overall home building cost, but that cost may be recouped in energy savings. Johnson said the amount of time to recover the cost will be discovered after the home is complete and tested.
The city of Steamboat Springs and Routt County jointly adopted a green building code in 2008.
To meet the green code's standards, a home must be at least 20 percent more energy efficient than a home built to standard code, and a checklist is designed to help homeowners determine what steps they should take to create a home that has energy efficiency, resource conservation and good indoor environmental quality.
The benefits for complying with the voluntary green code stem from the benefits of the construction: increased comfort, a healthier home and higher resale value.