Photo Gallery
Routt County Fourth of July festivities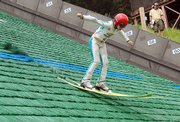 Fourth of July Parade winners
Lincoln Avenue in Steamboat Springs
- Parade theme: Perry-Mansfield Performing Arts School and Camp
- Original theme: Steamboat Ski and Resort Corp. (Olympic)
- Group float: Excel Gymnastics
- Commercial float: Yampa Valley Bank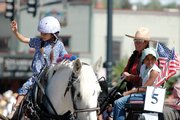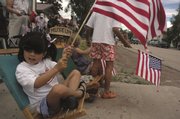 Steamboat Springs — Forecast rain stayed at bay Saturday morning and early afternoon, and downtown Steamboat Springs was flooded with a sea of red-, white- and blue-clad Independence Day celebrators.
The Steamboat Springs Lions Club fired up its grills at 7 a.m. and cooked thousands of pancakes by 10 a.m. at a packed Little Toots Park.
"They're cheaper by the thousand," said Lions Club member Del Haute, who said he has participated in the pancake breakfast fundraiser for 60 years.
Yampa Street was clogged with people, bikes, dogs, horses, a camel, parade floats, ATVs, motorcycles, scooters, mopeds, skates, wagons and boats as parade entrants prepared to begin their march down Lincoln Avenue.
The parade featured a new 40-foot-long iguana car float created by Charlie and Gail Holthausen, but Lynne Masters
reminded the crowd that she's still behind the wheel of the Lizard King.
"This is Steamboat's official art car," Masters said from behind the wheel of the gleaming Honda Civic covered in 300 pounds of embellishments - mostly reptilian in nature - made from materials such as beads, broken glass and CDs. The car is a tribute to Jim Morrison and was gifted to the Steamboat Springs Arts Council in 2005. Battery problems nearly sidelined the Lizard King, but it ultimately made it through the parade.
That was good news for 7-year-old Mike Buccino, who said the "crystal car" is his favorite. Mike drove an embellished vehicle of his own: a bicycle covered in red, white and blue ribbon with flags hanging from the handlebars.
Many in the parade were armed with water guns - a welcome sight for sweltering onlookers and a small annoyance for unsuspecting photographers - but no other parade entrant could match the firepower of the Steamboat Springs Team Lightning swim team. Steamboat Springs Middle School student Abbey Habermehl said she was going to aim for people who looked hot and people who looked like they were having fun.
"Every year, somebody always squirts the judges, so we always lose," Abbey said.
The parade started shortly after 10 a.m. with wailing fire engines zigzagging down Lincoln Avenue, and it ended about 60 floats later with a dance routine by Perry-Mansfield Performing Arts School and Camp.
Eight-year-old Caleb Huber, of Denver, said his hearing still was intact after stepping down from a Steamboat Springs Fire Rescue ladder engine.
"After a while, it's not as bad it seems," he said.
Perry-Mansfield was judged the best at representing the parade's official theme: "Steamboat Seasons : Celebrating the Beauty."
"It's hard to beat a good parade," said John "Doc" Daughenbaugh, who served as a parade grand marshal with his wife, Marsha.
Yampa celebrates
Bill and Cathie Voorhees were the Daughenbaughs' South Routt counterparts Saturday, leading the afternoon Yampa parade as grand marshals. Hundreds lined the streets to prepare for the big event.
Patty Redmond sat with her grandchildren Aaron and Amber. All three were decked out in American flag garb. Aaron, who turned 8 on Friday, said he was excited about the candy that would fly from floats.
"I hope I'll catch a big pack of Reese's," he said, clutching a cloth Wal-Mart bag.
Patty Redmond's son David came to watch the parade. The holiday is a huge event in the close-knit community, the Redmonds said.
"Everybody's a neighbor," David Redmond said. "If there's anything anybody needs, people are there to help out."
Yampa native Jeannie Moody came back from Dallas for the parade.
"The Yampa Fourth of July was epic, as always," Moody said.
She remembered lining Main Street to scoop up candy as a child. The trick is to stand near the start so you get sweets before the floats run out of them, Moody said.
South Routt wasn't as lucky as Steamboat was with weather. Nature, ignoring the obvious cliche, rained on the parade. It started sneakily with a few drops in the middle and opened up big time toward the end. Most of the viewers stuck around, especially those intent on gathering Tootsie Rolls and Laffy Taffy.
Ann Noyes came with family and friends from her home near Steamboat. Noyes said she attends the Yampa parade each year.
"It's small," she said. "It's very intimate with the children and the adults. We just love it."
Downtown packed
The Steamboat parade provided a welcome boost to vendors at the Mainstreet Farmers Market on Sixth Street where chef Dean Martin was cooking kebabs and preparing for what was sure to be his busiest Saturday of the summer.
"I'm thinking when that parade ends, they're going to flood this way," Martin said. "I don't think you could have a farmers market at any better location."
The festivities also boosted efforts to save the noon whistle, the iconic emergency siren that sounded at noon daily but was removed from downtown in October because of safety concerns. Mainstreet Steamboat Springs purchased 500 whistles to sell for $5 each to help raise the $9,000 to $15,000 needed to bring the whistle back.
"We're almost out," Mainstreet Executive Director Tracy Barnett said about the whistles. "We're thrilled."
Most at Saturday's events were content to celebrate the nation's birth merrily, but others hoped to revive the revolutionary spirit and rally against the Obama administration's policies and spending plans. At least two floats were geared toward that end and sparked debates within the crowd. A rally was held on the Routt County Courthouse lawn after the parade by The Steamboat Institute, an organization promoting free markets, low taxes, limited government, individual rights and responsibilities, and strong national defense.
The Tread of Pioneers Museum celebrated its 50th anniversary at its annual Pioneer Day Block Party, which featured a free concert by Steamboat Swings, free hot dogs, free admission to the museum, Routt Beer Floats and birthday cake.
"We love it," Andy Dean, of Fort Collins, said after swing dancing with his wife, Marta. "We come up here at least every other year for the Fourth. : The parade is always wonderful, and the rodeo."
Blythe Terrell contributed to this story.