If you go
What: Pioneer Day Block Party celebrating the 50th anniversary of the Tread of Pioneers Museum
When: 11 a.m. to 1 p.m.
Where: Eighth Street between Oak and Pine streets
Call: Tread of Pioneers Museum at 879-2214 for more information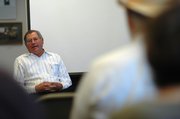 Steamboat Springs — Like the community it chronicles, the Tread of Pioneers Museum has had a unique and sometimes rough-and-tumble history on its way to a more refined existence.
"One of my fondest memories of the museum and (museum founder) Dorothy Wither was that Dorothy really kind of ramrodded everything," former museum board member Jim Stanko said Friday at the Tread's first installment of this year's Brown Bag Lecture Series. "As the treasurer, she had this unique ability to get money out of people."
Stanko served on the board from 1975 until the early '90s, most of that time as its president. In the early years, Stanko said, Wither made board members swear not to reveal how much money the museum had. Stanko said Friday that they usually had about $10,000 in the bank.
"But according to Dorothy, we were always poor and needed money," Stanko said, "especially with the City Council and Board of County Commissioners."
Present board member Jayne Hill recalled the first time the museum was able to hire a staff member to sit at the museum's front desk - a woman who turned out to be far more interested in her needlework than sharing local history with visitors.
"She was very put off when somebody came to visit the museum," Hill said. "I don't know why we paid her $6 an hour."
Stanko and Hill reminisced about the museum's history at Friday's event, which served as a precursor to today's celebration of the museum's 50th anniversary. The celebration will be held in conjunction with the annual Pioneer Day Block Party. The party will feature a free concert by Steamboat Swings, swing dancing demonstrations and instruction, children's pioneer games, Victorian and pioneer characters, free hot dogs, free admission to the museum and a 50th anniversary cake. Descendents of Steamboat's founding family, the Crawfords, will help serve up the event's signature Routt Beer Floats.
The museum has come a long way since it was founded by Wither in 1959. Before it had staff members, Stanko recalled the hands-on board members' meeting every May to prepare the museum for its opening - back then, it was only open during the summer. Stanko said board members would unpack the collection and crudely hang items with tape and thumbtacks.
"It would just make people shudder today," Stanko said.
"It's all full of holes where you hammered it up," Hill joked about one of the museum's valuable Native American blankets.
Hill relayed her own memory of preparing the museum to open when she and some other ladies locked themselves out of the building and had to call the police, who were forced to decide between dealing with "the old ladies at the museum or the kids on the telephone pole." There may have been wine involved.
Stanko recalled that people used to leave donations to the museum on the front porch, and museum officials were surprised one day to find a pistol, rifle and ammunition there.
"We'd come to work, and you'd be surprised how many things we'd find stacked on the porch," Stanko said. "Here's a pistol, a rifle and ammunition just sitting against the door!"
Hill said board members would hardly have any friends left after fundraising drives.
"Board members presently have no idea what it was like to be a board member back then," Hill said.
Today, the museum has a paid staff, its books are open, the collection is handled more professionally, and 50 percent of its costs are covered by a 0.3 mill property tax levy approved by voters in 2003.
Executive Director Candice Lombardo said the museum still relies on volunteers, however, and still needs space to display and store its collections properly. Hill said the museum is continually striving for professionalism, and that's why she's willing to put her friends on the line once more.
"You'll begin to hear rumblings, once again, that we're facing space issues," she said.