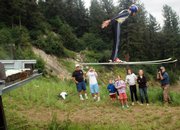 Steamboat Springs — It's hard not to like where Brett Camerota is right now.
The 24-year-old U.S. Nordic combined skier is hitting his stride right in time. On the heels of showing well during the 2008-09 season, Camerota appears the most likely and able candidate to fill the team's fourth spot for the 2010 Olympics.
Camerota paced the United States on Friday during the Rocky Mountain Division Ski Jumping Extravaganza at Howelsen Hill.
As part of a fun, semi-competitive Nordic combined event, Camerota jumped to a lead, soaring 74.5 meters to take the lead heading into today's roller ski race.
The roller ski race begins at 9:30 a.m. today on Lincoln Avenue and precedes the Fourth of July parade.
"It's been going well," said Camerota, who lives in Park City, Utah. "It's not my favorite hill, but it's going well on it. I have to be happy."
Competitors had three jumps Friday, the second of which was used for the Nordic combined portion.
Camerota's brother, Eric, finished second at 74 meters. World champions Johnny Spillane at 73 meters, Bill Demong at 72 meters and Todd Lodwick at 71 meters rounded out the top five.
"This is definitely for fun," said Brett Camerota, who has been in town all week with the rest of the U.S. team for a training camp. "It's good training, but it's July 4. The whole team is here, and it's not crazy. There isn't a ton of pressure. But it's almost a good thing when you compete. It's easier here to stay relaxed."
The U.S. team camp began on Monday and concludes today with the roller ski race and a target jumping event. The target jumping takes place at 11 a.m. with a qualification round. From there, the field is pared down until an eventual winner is determined.
The Steamboat camp, in a way, kicks off the season for the U.S. team. Although the Fourth of July event is more for fun and provides a way for the sport to get more attention, it still serves as a competition.
On Wednesday, the team held a Nordic combined event that included a skate ski race up to Fish Creek Falls.
No matter the stakes, when a collection of the world's best get together, the competitive juices certainly start to flow.
"This is more the celebration of Independence Day with a great crowd in Steamboat," Demong said. "We're all head-to-head, and as an older athlete, it's definitely showing what we can do. The focus is more on February, but we're not taking it lightly. We're doing our best."
After this camp, the U.S. team heads to Europe to train. Demong said that camp allows the team to get away and focus on training.
And although they'll get jumps in and build their fitness, it won't be all work. The team will take in a couple Tour de France stages and ride a couple as well, including the famed L'Alpe-d'Huez.
"We'll ride some stages, and that will obviously be good, quality endurance training," Demong said. "But it's going to be fun and a chance to see the best in the world at another sport."