Photo Gallery
July First Friday Artwalk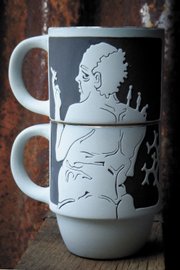 Eighteen galleries and alternative art venues in downtown Steamboat Springs host show openings and receptions from 5 to 8 p.m. today. This is a sampling of work from some of the participating galleries.
Steamboat Springs — Featuring art openings at formal galleries, alternative venues, retail stores and restaurants, the July First Friday Artwalk includes several dynamic showings of new work. Receptions are from 5 to 8 p.m. today and are free and open to all ages, unless otherwise noted.
- Abracadabra Gallery features new paintings from Steamboat Lake by local artist Zanobia. The venue hosts a country jam during the reception, so bring an instrument if you have one. Call 871-8000. 1124 Yampa St., above Double Z BBQ & Bar.
- Artists' Gallery of Steamboat presents "Songs of Summer." The show features oil paintings inspired by realistic landscapes and wildlife by Adam Zabel; Orotone photographic prints depicting scenes from the Yampa Valley and Hawaii by Barbara Sanders; and pastels inspired by wildflowers by R.C. Dieckhoff. Call 879-4744. 1009 Lincoln Ave.
- Center for Visual Arts of Steamboat presents "Colorado Fresh," featuring new work by Denver plein air landscape painter Nicholas Reti, who will give an artist talk and demonstration at 4 p.m. Also featured in the gallery are bronzes by Patrick Zabel, western photography by Gerald Hardage, children's paintings from a Steamboat mission trip to Romania and work in a wide range of media by more than 80 additional artists. The reception includes wine and appetizers. Call 846-5970. 56 Ninth St.
- Colorado Group Realty features paintings by local artist Pat Walsh. Call 870-8800. 509 Lincoln Ave.
- Creekside Cafe features photography by Judy Jones, who uses a background in photojournalism and a love of nature to capture images of cowboys and horses from Steamboat Springs and the surrounding ranches. The collection shows cowboys in their day-to-day lives, living and working on the ranch. 879-4925. 131 11th St.
- The Depot Art Center and Steamboat Springs Arts Council host "On Track." The annual member show for the Arts Council features more than 100 pieces in various media by more than 50 contributing artists and pulls double duty as a celebration for 100 years of the Depot, a former train station that has been used and maintained by the Arts Council for several decades. The show will be up through Aug. 23, and the reception includes refreshments made by artist members. Call 879-9008. 1001 13th St.
- Gallery 11 presents new releases by local photographer Ken Lee. Call 870-8887. 908 Lincoln Ave., next to Steamboat Smokehouse.
- New to the Artwalk in July, High Mountain Sotheby's International Realty presents work by Lizzie Larock, Lynne Garell, Jay O'Hare and Alex Nachtweih. The reception includes food and drinks. Call 879-8101. 708 Lincoln Ave.
- Also new to the Artwalk, Howelsen Place Gallery features pieces by sculptor and designer David Marshall, whose work is featured in galleries across Europe, including spots in England and Spain. Call 846-0659. 703 Lincoln Ave.
- K. Saari Gallery presents Jonah Skurky-Thomas and Micah Bell, the ceramic artists behind the collaborative project Jinah China. The pair made more than 100 cups, mugs and platters for the show, which touches on the importance of feeling comfortable in your own skin. Call 871-0188. 837 Lincoln Ave., next to Epilogue Book.
- Off the Beaten Path presents Lisa Hemmeter, a local artist who focuses on child-friendly designs. Call 879-6830. 68 Ninth St.
- The Portfolio Collection and Jim Steinberg Photography celebrates the many awards garnered by Steinberg's "Colorado Scenic Byways: Taking the Other Road," including a Colorado Book Award from Colorado Humanities. Books will be available for reduced prices at the reception, which includes food and drinks. Call 879-3718. 1016 Oak St., one block up from Lincoln Avenue.
- Shauna Lamansky Photographic Design displays Lamansky's fine art photography and portraits. The reception features live music from 5:45 to 6:45 p.m., provided by a chamber ensemble from the Rocky Mountain Summer Conservatory. Call 879-6213. 928 Lincoln Ave.
- Sleeping Giant Gallery features "Capturing Steamboat," photography by Don Tudor and paintings by Cully Kistler. Call 879-7143. 601 Lincoln Ave.
- Steamboat Art Museum continues its presentation of "RARE: Imperiled Plants of Colorado," and "The Wild Bunch," a collection of wildflower portraits in varying media. "RARE" features more than 40 botanical illustrations of plants found in Colorado and is tied in with several activities throughout the summer; Barbara Flowers hosts a botanical illustration workshop July 10, 11 and 12 at Yampa River Botanic Park. The shows will be on display through Sept. 30. Call 870-1755. 807 Lincoln Ave.
- The Spa/Salon presents photography by Corey Kopischke and music by local teenage musicians. The reception includes appetizers and drinks. Call 871-0202. 25 Fifth St.
- Urbane clothing store features paintings by Dacques McCann, a local artist who focuses on swirls of color and bold contrasts. The reception includes music and refreshments. Call 879-9169. 703 Lincoln Ave., Suite B101.
- Wild Horse Gallery features paintings by John Fawcett, bronze sculptures by Curtis Zabel and oils by Nancy Boren. Call 879-5515. 802 Lincoln Ave.