Jinah China makes collaborative pieces that are meant for use
Photo Gallery
"Jinah China" at K. Saari Gallery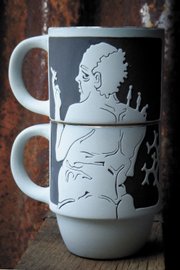 K. Saari Gallery presents ceramic work by Jonah Skurky-Thomas and Micah Bell. The show opens with a reception from 5 to 8 p.m. at the gallery.
If you go
What: Opening reception for "Jinah China," featuring ceramic work by Jonah Skurky-Thomas and Micah Bell
When: 5 to 8 p.m. today
Where: K. Saari Gallery, 837 Lincoln Ave.
Cost: Free
Call: 870-0188
Steamboat Springs — When someone walks away from Jonah Skurky-Thomas' and Micah Bell's ceramics show featuring natural figures and themes, the artists want that person to feel comfortable in their own skin.
"I'm really interested in drawing the human body as we all are - we have stretch marks and bellies : and when you put that on a beautiful art object, I'm hoping people can take that away from it and enjoy themselves," Skurky-Thomas said.
Skurky-Thomas and Bell - the creative brains behind Durango-based Jinah China Studios - are featured this month at K. Saari Gallery. An opening reception for their show is from 5 to 8 p.m. today; the event is part of First Friday Artwalk.
Jinah China is a collaborative effort - Bell handles most of the mold-making and sanding, and Skurky-Thomas contributes compilations of images from his sketchbooks. For their display at K. Saari, the pair made 99 cups, 19 coffee mug sets and 10 platters, Skurky-Thomas said.
"Our processes really, really complement each other," he said. "Her meticulousness counterbalances my ADD, basically, and vice versa because she'll spend four hours sanding a piece, if I don't stop her."
Skurky-Thomas and Bell met as students at The Art Institute of Chicago. Bell is from Atlanta, and Skurky-Thomas grew up in Steamboat. His mother, local mixed-media artist Diane Cionni, also shows work at K. Saari Gallery.
The artists were featured at the venue in 2007. Since then, gallery owner Kimberly Saari said the maturation shown in the new collection is noticeable, with each piece telling its own story. It's hard to nail down one narrative, Skurky-Thomas said, because each piece has its own history.
Among the themes tackled in the collection are lethargy in nature, the transition from winter to spring and imagery built off fractal patterns - showing that at a basic level, everyone is made out of the same building blocks.
"We get so used to these cookie-cutter bodies and shapes : and I think it's important to spend time really looking at ourselves. That's a really important part of the work, is to be intimate with these oddities that make us interesting as people," Skurky-Thomas said.
Once the art leaves the gallery, it's meant to be lived with, he said. The collection will be on display through July 26.
- To reach Margaret Hair, call 871-4204 or e-mail mhair@steamboatpilot.com