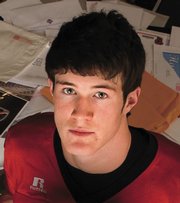 Steamboat Springs — Austin Hinder's journey from small-school quarterback to big-time recruit will lead him to Maui, Hawaii, today.
Hinder has committed to the University of California-Berkley, and the Steamboat Springs High School quarterback and rising senior will take part in Steve Clarkson's Super Seven quarterback retreat through Saturday.
In addition to Hinder, fellow Class of 2010 quarterbacks Blake Bell (committed to University of Oklahoma), Nick Montana (University of Washington), Phillip Sims (University of Alabama) and Jake Heaps (Brigham Young University) are expected to attend.
"This one will be a lot of fun," Hinder said. "First off, it's in Maui. You don't get too many trips to Hawaii."
The camp will be relatively different than most Hinder has attended. Although the competition still will be fierce and drills still will be run, there will be quarterback competitions similar to those used in the NFL Pro Bowl.
For instance, quarterbacks will throw at moving targets, and there will be an obstacle course.
In addition to working with Clarkson - who has tutored NFL and Division I quarterbacks - campers will get to work with Hall of Fame quarterback Joe Montana.
The challenges also will be filmed for a potential reality series about the next big quarterback.
Hinder, who has been working out in Steamboat, said his recruiting has slowed down since he committed to the University of California-Berkley in late May.
He said he still gets letters from multiple schools, but that the chaos has stopped.
That's something Hinder said he's really grown to appreciate.
After the camp in Maui, Hinder will find out Monday whether he was selected as an Elite 11 quarterback - generally regarded as the top 11 quarterbacks in the nation.
"It's just relaxing now," Hinder said. "I've been working in the gym with teammates. Just getting ready to try and win a state championship."