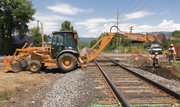 Steamboat Springs — The Union Pacific railroad company began work this week on safety upgrades that could have prevented one of the scariest moments in Buck Chavarria's life.
In 2006, Chavarria managed to jump from his pickup just before an oncoming train struck it at the railroad crossing at the entrance to Fish Creek Mobile Home Park on Anglers Drive. With no lights or gates at the crossing, Chavarria said those entering or leaving the 70-home park have been forced to inch close to the tracks to see whether trains are coming. On an icy January day, Chavarria said, his car began to slide toward the tracks as he was trying to inch forward. After he jumped from his pickup the train totaled it, pushing the pickup about 20 feet into a snowbank.
"What it entails is putting in gates and lights to block off traffic when the train is coming through," Ben Beall, a public works engineer for the city of Steamboat Springs, said about the project that began Tuesday. "Currently, there's only a stop sign."
Chavarria said that such safety features would have prevented his accident had they been in place at the time.
"If the lights are on and the gate is down, you don't have to nose out and look," he said. "It's absolutely necessary. These things save lives all the time. : Anything would be better than what they have."
Chavarria's accident was the second at the same location within a month, which brought attention to the dangers of the crossing and led to calls to improve it. A Federal Railroad Administration online database has nine reports on file for accidents that have occurred at the crossing since 1978. There have been three injures, no deaths and $35,100 in property damage in those accidents.
As part of the Yampa Valley Housing Authority's $3.2 million purchase of Fish Creek Mobile Home Park in 2007, $550,000 was set aside to improve the crossing.
"It's a large safety issue," said Mary Alice Page-Allen, asset/program manager for the Housing Authority. "A lot of people obey them, but I've seen a lot of people blow on through, and that's how accidents happen."
It has taken this long to realize the project, Beall said, because of maintenance issues, right-of-way acquisition and haggling with Union Pacific. According to a city news release, Union Pacific hopes to complete the installation of lights and gates within two weeks. Later in the year, the crossing's wooden platform will be replaced with a concrete one, and the city hopes to extend a sidewalk on Anglers Drive over the tracks to the mobile home park.
Beall said he hopes to see all of the work completed by the end of the year. He said vehicular access through the area will be maintained throughout the projects.