Photo Gallery
Arts Council annual member show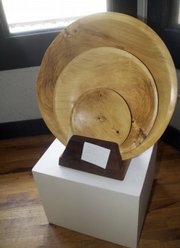 "On Track," the annual artist member show for the Steamboat Springs Arts Council, opens with a reception from 5 to 8 p.m. Friday at the Depot Art Center. More than 50 artists contributed more than 100 pieces in various media to the show, which will be up through Aug. 23.
If you go
What: Opening reception for "On Track," annual artist member show of the Steamboat Springs Arts Council
When: 5 to 8 p.m. Friday
Where: The Depot Art Center, 1001 13th St.
Cost: Free
Call: 879-9008
Steamboat Springs — The more than 50 artists who contributed work to the Steamboat Springs Arts Council's annual artist member show are more than creative resources, said show co-chair Dona Steele.
They're picture hangers, chefs and bartenders for the opening reception, organizers and promoters, she said. An all-volunteer effort that includes more than 100 pieces, the "On Track" member show opens with a reception from 5 to 8 p.m. Friday at the Depot Art Center, and will be on display through Aug. 23.
"It's one of the locals' and the artists' favorite shows of the year," Steele said. The "eclectic and exciting" collection of two- and three-dimensional work includes oil and watercolor paintings, ceramics and other media, she said. Everything on display will be available for purchase, along with a bin of unframed work and some note cards.
The Arts Council's volunteer-run Visual Arts Committee, led by Mary Levingston, organized the show. Steele said she hopes the exhibit will drum up local support for the Arts Council; the organization has had severe financial difficulty in the past year.
"We're just hoping that the town rallies around the Depot again because it's just too valuable a resource to lose, and it's been here forever," Steele said.
At about noon Wednesday, several Arts Council artist members worked to get their pieces on the walls at the Depot. The former train station celebrates its 100th anniversary this summer, and the Arts Council is rolling out events to ring in the centennial.
Nancy Kramer, a former Arts Council executive director who's helping organize the centennial celebration, said the group should have a definite plan ready for its Aug. 23 community block party within the next 10 days. Tread of Pioneers Museum and the Wyman Museum are on board to help with an exhibit of train memorabilia at the Depot from Aug. 21 to 23, Kramer said. The Arts Council also is working on a fundraising campaign to reestablish an endowment for itself, she said.