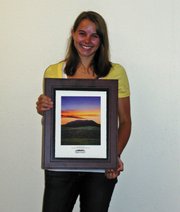 Steamboat Springs — It was her day to be thanked, but Janet Borden had to express some gratitude of her own Sunday. She was appreciative that the city of Steamboat Springs provides a legal means for her husband, Tim, to exercise his obsession with fire.
The Bordens were recognized Sunday by the Yampa Valley Community Foundation as this year's individual Philanthropists of the Year. Among their many gifts to the community, Tim Borden donates hundreds of hours and many thousands of dollars every year to put on the city's annual Fourth of July fireworks display with his son, Scott.
The Community Foundation also recognized the Holiday Inn Steamboat Springs as its business Philanthropist of the Year and Kayleigh Esswein as its youth Philanthropist of the Year.
Betsey Jay, executive director of the foundation, said the foundation's donor relations committee chooses winners after receiving nominations from the community. Jay said the foundation looks at more than monetary contributions.
"We think it's not just about giving money - it's also about giving time," said Jay, who noted serving on the board of a charity as an example. "We really look at the passion that the person has and evidence of how they've lived it."
In addition to the fireworks, the Bordens also have supported the Steamboat Springs Winter Sports Club, the Steamboat Springs Arts Council, The Lowell Whiteman School, Colorado Mountain College, the Steamboat Art Museum and more. Tim Borden, a 30-year member of The Lowell Whiteman School Board of Trustees, said he is particularly interested in improving education at the pre-college level.
"I also feel very good about the fact that I was a founding member in starting the Lowell Whiteman Primary School," said Borden, who said the school has been very successful and popular. "Their biggest problem is the size of their waiting list."
Tim Borden said Steamboat is a very philanthropic community and that several people were deserving of the award. He said residents' love for this community inspires them to give back.
"It's not how many things you do, but get involved in something you're passionate about. It really turns out to be a very rewarding experience," Tim Borden said. "The hours just don't seem like that long.
"When I write those checks, I'm always thinking about the benefit those checks will do," he continued. "It's a great situation to be as fortunate as my family has been so that we can make donations to others. We feel very strongly about that."
Scott and Lynne Marr purchased the Holiday Inn Steamboat Springs in 2001. Through their business and individually, the Marrs have been active in the Steamboat Springs Rotary Club, the Yampa Valley Medical Center, the Healthcare Foundation of the Yampa Valley, the Yampa River Botanic Park, Routt County United Way, Steamboat Springs Youth Soccer Association, Humble Ranch and more, according to a Yampa Valley Community Foundation news release.
"When you live in a place and really like it and it's been good to you, you feel a need to give back," Scott Marr said.
A nomination letter written by five local businesspeople notes that the Holiday Inn also sponsors a number of community events and provides free accommodations to local organizations.
"The Holiday Inn demonstrates that the size of a company does not have to - and should not - dictate its capacity to care for its community," the nomination letter states.
Esswein, a rising junior at Steamboat Springs High School, has helped build and support a school in remote northern Zambia during the past few years. She was unable to attend Sunday's award ceremony because she is on a mission trip to the Dominican Republic, but she wrote that, "The kids I met in Zambia taught me the true value of laughter, to cherish the simplicities in life, to hope beyond hope, to love like it's the end and to live every moment to the fullest."
"They really walk the talk," Jay said about this year's winners. "We want to encourage that. Not only is it good for community to have that, I think people have more meaning in their life when they give back."