Steamboat Springs Hockey, 2008-09
Dec. 5, Steamboat 3, Aspen 2 at King of the Mountain Tournament; (1-0)
Dec. 6, Steamboat 4, Battle Mountain 0 at King of the Mountain Tournament; (2-0)
Dec. 6, Steamboat 8, Summit 4 at King of the Mountain Tournament; (3-0)
Dec. 12, Steamboat 4, Standley Lake 2; (4-0)
Dec. 13, Steamboat 6, Mullen 1 at Colorado Academy; (5-0)
Dec. 19, Steamboat 3, Chatfield 2; (6-0)
Dec. 20, Lewis-Palmer 4, Steamboat 0; (6-1)
Jan. 9, Pueblo County 3, Steamboat 1; (6-2)
Jan. 10, Steamboat 4, Rampart 1; (7-2)
Jan. 16, Steamboat 4, Doherty 1; (8-2)
Jan. 19, Battle Mountain 5, Steamboat 2; (8-3)
Jan. 23, Steamboat 6, Liberty 0;(9-3)
Jan. 24, Steamboat 3, Fountain Valley 2;(10-3)
Jan. 30, Steamboat 5, Air Academy 2;(11-3)
Jan. 31, Steamboat 6, Valor Christian 0;(12-3)
Feb. 6, Cheyenne Mountain 3, Steamboat 2; (12-4)
Feb. 7, Steamboat 7, Coronado 2;(13-4)
Feb. 13, Steamboat 4, Pine Creek 0;(14-4)
Feb. 14, Steamboat 2, Palmer 0;(15-4)
Feb. 20 state playoffs begin, TBA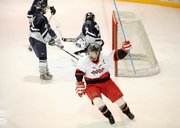 Steamboat Springs — Before Friday's game against Air Academy, Steamboat Springs High School hockey coach Jeff Ruff said his players would have to start fast and finish strong to win.
The Sailors responded emphatically on both fronts.
Steamboat got an early goal and dominated the third period en route to a 5-2 win.
"We had talked a lot about what we needed to do for what we'll see towards the end of the season and into the playoffs," Ruff said. "Part of what we want to do is set the tempo, and for two and a half periods we did."
Besides a brief point at the end of the second and beginning of the third periods, Steamboat outplayed Air Academy.
The Sailors got it started when Eric Bonner lasered a shot from between the circles, past Kadets goalie Marcus Harbison.
Air Academy knotted the score at 1 a minute into the second period when Steamboat goalie Matt Dawes couldn't handle Cameron Duba's rebound, and Adam Paiement pounced on the puck.
The Kadets appeared to take the lead two minutes later when a puck squeaked through Dawes' legs, but the referees blew the whistle before the puck crossed the goal line.
Kaelen Gunderson gave Steamboat the lead midway through the second period when he deflected a Bonner shot into the net on a power play for a 2-1 lead.
Charlie Smith made it 3-1 early in the third when he pounded home a perfectly placed puck off the stick of Gus Worden. The Kadets' Carson Chase cut the Steamboat lead to 3-2 a few seconds later when he scored on a delayed penalty.
But Steamboat, 11-3 overall, responded with goals from Gunderson and Cody Fritz to put the game away.
"We knew their goalie would give up some rebounds," said Bonner, who finished with a goal and an assist. "We wanted to get that puck on net, get some rebounds and maybe get lucky."
Steamboat plays Valor Christian at 3 p.m. today at Howelsen Ice Arena. Despite Valor Christian's 0-14 record, Ruff said, at this point, it's more a matter of how Steamboat plays, not whom the team plays.
"The biggest thing we need to do (today) facing a weaker opponent is stick with the systems instead of being selfish," Ruff said. "The other thing is we need to get scoring from some of our guys that need to get confidence."