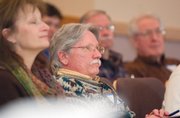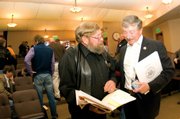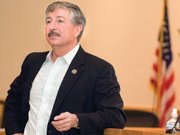 Steamboat Springs — U.S. Rep. John Salazar said Friday that federal money from the proposed economic stimulus and recovery plan could reach Northwest Colorado by the end of February.
With an estimated $825 billion price tag, the plan would enrich schools, infrastructure projects and local "shovel-ready" projects, Salazar told a group of local leaders at a meeting Friday morning.
Speaking at Centennial Hall on 10th Street, Salazar sold the benefits of the federal plan to officials from Steamboat Springs, Hayden, Oak Creek, Walden and Yampa. Salazar told the officials that the plan is intended to create jobs across America as a way to "dig us out of the mess we've dug ourselves into."
Salazar is a San Luis Valley Democrat who represents Colorado's Third Congressional District, which includes Routt County.
The American Recovery and Reinvestment Act of 2009, passed by the U.S. House of Representatives on Wednesday, also includes money for renewable energy and local educational bodies. Before it becomes law, the proposal has to pass the U.S. Senate and the desk of President Barack Obama. Salazar said he expects some changes in the proposal before it is finalized, but he said those changes likely will result in funding increases, especially for infrastructure.
Representatives from Routt County school districts at the meeting were told the stimulus package would give money directly to the districts through regular funding channels. According to estimated allocations from the House Appropriations Committee, of which Salazar is a member, the Steamboat Springs School District would receive $584,600 in additional funding throughout two years. Hayden School District would receive $165,600, while South Routt School District would receive $159,900 during that time.
South Routt School Board President Tim Corrigan said his district has been keeping watch on the stimulus package and its potential windfall for the district. Some of the money could be used to fund projects denied by Steamboat Springs' Education Fund Board, he said.
"I think we can pretty quickly find a way to use it," Corrigan said.
Salazar said one of the most important parts of the bill is how quickly the funds could be used - ideally, the Congressman said, the bill would be passed Feb. 16, and funds would be disbursed within the following two weeks.
"This is about infusing money into the community as fast as we can," he said. "We wanted local government to just get their hands on it so they can get going on shovel-ready projects."
Salazar said there are no earmarks in the bill, meaning politicians are not able to advocate for specific projects or add special provisions into the bill to benefit their constituents. For specific information about how to apply for and receive the funding, Salazar told the crowd they should visit http://recovery.gov. That Web site is not yet operational but has a notice that information will be added as soon as the stimulus bill is made into law.
Colorado's economy may be faltering, but it is better than many other states across America, Salazar told the group. And compared to other parts of Colorado, the northwest region "is faring fairly well, but ... it has its problems," Salazar said. "This region hurts, as well."
Colorado would receive $565 million for highways and bridges, $47 million for water projects, more than $100 million for state transit and rail and a total of $68 million for education funding, all in addition to regular federal funding, if the bill is passed.
Salazar listed Routt County priorities including the widening of U.S. Highway 40, Federal Aviation Administration funding for airport improvement projects, public health funding, H2A and H2B visa reform, water concerns and creation of a green economy and "green collar" jobs.
Paul Draper, director of the Routt County Road and Bridge Department, said there are several improvement projects waiting for funding in the county. Among those projects is a $500,000 renovation to a bridge over the east fork of the Williams Fork River south of Hayden and a $10 million to $12 million improvement to Routt County Road 14 near Stagecoach.
He said he has not heard what kind of funding his department would receive from the federal stimulus.
"The local people, that's where the dollars reach the road and we're not sure if it's going to get down to us," he said.
Salazar's hour-long presentation in Steamboat was a part of a six-city, two-day tour of the region. He went on to Craig and Grand Junction on Friday. Today, Salazar will visit Montrose, Cortez and Durango.