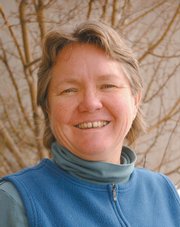 Editor's note: Clark resident Mary Walker works at the Tasaru Girls Rescue Centre in Narok, Kenya. The center was built in 2002 with funding from the United Nations, and it provides a safehouse for Maasai girls who have escaped or been rescued from female genital mutilation and forced childhood marriage. Walker's updates from Kenya appear periodically in the Steamboat Today.
A nationwide teachers strike has taken hold in Kenya. About four weeks ago, KNUT, the most influential teachers union in Kenya, announced that all its members would go on strike Jan. 19. In the middle of their month-long December holiday, students, their parents and the government failed to take proper notice of this announcement. Two weeks into the new school term, the union made good on its threat, and now every primary school in Kenya has been closed and all primary school students sent home. Word is that secondary schools will follow course in a matter of days.
In Kenya, all teachers in public primary and secondary schools, teachers' colleges and public universities are simultaneously paid by the government and members of this strong union. The last time that there was a strike of this magnitude in Kenya, it lasted one month and paralyzed the education system, derailing students in their final year of secondary school and any hopes they had of continuing on to a college or university education.
For the girls from the Tasaru Girls Rescue Centre where I work (and manage a college fund for them), this situation is intensely personal and emotional. I am losing sleep every night over its outcome. Along with the post-election violence that rocked Kenya this time last year, the teachers strike is causing me the largest dose of "survivor's guilt" since I started working at the rescue center a year and a half ago.
When I return home to Clark after each of my visits to the rescue center, I have become accustomed to the "repatriation stress" that is so common and studied among aid workers abroad.
And I worry about the things that could happen to the girls at the rescue center, particularly when I am not there - malaria, typhoid, a matatu (Kenyan bus) accident, or a father kidnapping them from their school to marry them off. But with nationwide events like the post-election violence or this current teachers strike, the perils to these girls widen, deepen and intensify.
Typically, the girls are at the rescue center during the months of April, August and December (holidays for all students in Kenya). The day-to-day budget of the rescue center cannot handle a month-long strike and the need to house the 45 to 50 girls who live there. With the stress on the budget for the center elevated, so is the inclination to reconcile girls, perhaps ineffectively, with their parents so that they can go home instead. At home, there is no guarantee that a girl is will be allowed to finish secondary (or even primary) school.
Kenya uses a British style of education, 45 years after their independence from this colonial power. This system is "English only" from day one for a student, even for a teenage girl from the rescue center who has never been to school before being enrolled in the equivalent of fourth grade. Emphasis is on a student's ability to memorize material, not comprehend it. This system may be effective for the very small number of students in Kenya whose parents speak English and support their children's education. These children go home from school at the end of the day, and with access to electricity they are able to study at night (it gets dark at 6:30 p.m. year-round in Kenya). They aren't expected to work the family farm when at home.
On the other hand, the vast number of Kenyan students are either boarding students or do not have electricity to facilitate their study habits. If you are a boarding student, you wake up at 4 a.m. every day and are in class, except for a lunch and supper break, until 9:30 p.m. This system works well for those children who need only six hours of sleep and are able to spend every waking minute memorizing their course work.
For the three girls at the center who have just started their final year of high school, the longer the strike continues, the worse their chances for a successful outcome to their year-end exams in November. If, as we assume will happen shortly, these girls are sent "home" to the rescue center from their secondary schools, they will have no supervision to assist them as they continue their studies.
It is essential that these three girls do well on this exam in November in order to become a doctor, journalist or nurse. This is what they have said they want to become and, up to now, have had the grades to accomplish. The stress of having their schools close, no teachers to guide their studies and no access to the study materials of their school libraries easily will ruin their chances for a good result. If the strike goes long enough, the government could cancel the November exam schedule, forcing these three girls to remain idle at the rescue center after finishing secondary school while they await the exam the following year. I am losing a lot of sleep these days.