Missed the Boat's influences
¤ The Rocky Mountains/Colorado: A lot of our songs revolve around the tranquility and beauty of living in the mountains.
¤ Campfires: We all have done our fair share of sitting around a campfire singing and playing some type of instrument - most likely one made out of wood. Or metal, in Peter's case.
¤ Bluegrass: We all like certain things about it and love a good upbeat ho-down. Artists such as Bill Monroe, Old & In the Way, and New Grass Revival have influenced our sound.
¤ Bob Marley and the Grateful Dead: Self-explanatory.
¤ Our fans and families: We love to make them dance. We are truly appreciative of everyone's support in helping us succeed and grow.
¤ The Jimmys: Page, Hendrix, Morrison, Cliff and Hetfield.
¤ Monday open mic nights at Mahogany Ridge: It's where we all met and got together, and it continues to be a great time!
¤ The 2008 presidential election and Inauguration Day 2009: Go Obama!
¤ The Chicago Recording Company: It's where we most recently recorded our first studio album. We met our producer Davey and his energy and creativity contributed to a very exciting first album.
¤ Pad Thai with chicken and a cold Pabst Blue Ribbon: It's the meal and drink that brought us all together after 24 hours of recording in the studio.
Past Event
Saturday, January 31, 2009, 10 p.m.
The Boathouse Pub, 609 Yampa Street, Steamboat Springs
Not available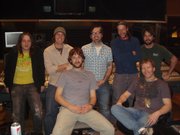 Earlier this week, local bluegrass and folk rock band Missed the Boat was getting back into town from Chicago, where band members had put the finishing touches on a debut CD.
That album will have its official local release with a party on March 14 at the Old Town Pub. But fans of and newcomers to the local band can catch pieces of its laidback, song-driven style on Saturday with a homecoming show at The Boathouse Pub.
The musicians in Missed the Boat come from Illinois, Colorado, Iowa and West Virginia, but the sounds and places that influence the band's music converge in ways that are familiar to Steamboat ears.
Mountains, bluegrass, Bob Marley, Pabst Blue Ribbon and local support are among the things band members Ryan Cox (guitar, vocals), Peter Hall (harmonica, vocals), Andrew Henry (mandolin, banjolin, vocals), Brian Joyce (bass, vocals) and Pat Waters (drums, vocals) listed as influences on their popular bar-band sound and newly recorded album.