Past Event
Tuesday, February 3, 2009, 4 p.m. to 6 p.m.
,
Not available / Free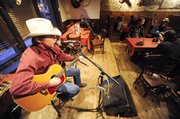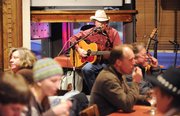 Until he started playing an aprÃs ski solo set at Steamboat Smokehouse two weeks ago, it had been almost 15 years since Greg Scott scheduled a regular bar gig.
The western-style musician had focused on private events and a few public shows since Sunday night sessions at the Smokehouse stopped in the mid-'90s. But a slowdown in private parties and a chance to come back to his saloon-style home brought Scott and his story-driven songs back to downtown Steamboat Springs.
Scott and Smokehouse owner Fritz Aurin said the two-hour sets give locals and visitors a reason to come downtown three afternoons a week.
"When Fritz (Aurin) and I got together, one of the key things was that there are always people advertising for a happy hour, but nobody is advertising for entertainment," Scott said, noting that Bear River Bar & Grill in Gondola Square often offers aprÃs ski music.
"There are things going on, but the way I was looking at things, there's a crowd that comes downtown every day. : I just thought there might be something there to offer folks," Scott said.
The response to Scott's reappearance in a Steamboat bar was strong in the first three days of his Smokehouse gig, Aurin said.
"I've been really pleased with the start so far and how many locals who have come out who are longtime friends of Greg, and some who have just heard him at private parties," Aurin said.
Western, not country
A Texas native, Scott started performing in Steamboat in 1973 as part of a constantly rotating tour of ski towns.
"I'd be on the road pretty much year-round winter and summer, and wherever I was performing that's where I lived," Scott said. Even before he landed in Routt County in 1978, Scott said he spent as much time here as he could.
"There was something about the country around here, obviously; we're all drawn to that," he said. "But I think, for me, the people were the difference. And I think it still offers that. Even with all the growth that Steamboat's experienced and still experiences, I think it's a very unique place, and I think the people make it that way."
Scott's people-focused songwriting style reflects that quality. In cowboy music originals and covers of his favorite artists, the Hayden-based guitarist puts an easy feeling to an aprÃs ski crowd.
"I like story songs, ballads," he said. "There are a lot of words in some of these songs - those kinds of songs are going to be long, because they tell stories, and I've always been partial to that kind of music."
Scott labels his brand of music "western" - leave out the "country."
"I do some cowboy stuff with local flavor that talks about the area around Steamboat and around Routt County, but I prefer to label it more western or more cowboy," he said. "I think people have a little bit of an idea what to expect if they haven't heard me by using that label."
Most of Scott's covers don't fit as easily into the cowboy or western genre, and he's made songs by Jimmy Buffett and James Taylor his own.
"If you stick with music that you like in terms of covers, songs that you like are just easier to learn and are just more fun to learn," he said. "If I hear a James Taylor song, and I think to my taste I just really do like that - if it's a song that you like it's a song that's probably going to be fun to perform."
Music before late-night
Aurin and Scott said they appreciate the chance to offer live music before late-night bar hours.
"All the music downtown is late-night music, and I just thought it'd be nice if we had some aprÃs ski downtown," Aurin said.
"People may want to get off the mountain and just listen to some laidback music, especially western music that's in character not just with us (at Smokehouse) but with Steamboat."