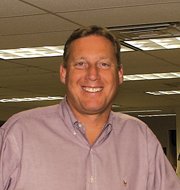 Steamboat Springs — Four months after sending an intent-to-sue letter to the Steamboat Springs School District, former high school principal Mike Knezevich has yet to formally file a lawsuit.
In September, Knezevich and his attorney informed the district it could face a $400,000 lawsuit seeking damages for lost wages. He has two years from the day the Steamboat Springs School Board declined to renew his employment contract to file legal action against the district.
Steamboat Springs School District attorney Richard Lyons said Knezevich has requested several documents and e-mails regarding his employment. Superintendent Shalee Cunningham said she has heard no updates on the lawsuit other than the document requests from Knezevich.
Knezevich did not return phone messages left at his home this week.
Lyons said he has not had any contact with Knezevich's attorney, Joan Bechtold.
The notice of intent to sue, sent to the district by Bechtold in September, could have been used simply to give Knezevich time to consider his options, Lyons said. Intent-to-sue notice must be given within 180 days from the incident in question.
On June 9, 2008, the School Board voted, 3-2, not to renew Knezevich's contract after an unfavorable review by former interim Superintendent Sandra Smyser.
In the letter to the district, Knezevich says Smyser's review was unfair because she "had minimal direct contact with Mr. Knezevich during the review period and had little to no first-hand knowledge of his job performance."
Knezevich alleges the board violated Colorado law in three ways: The district did not have a written evaluation system, the district did not have a performance evaluation council, and Smyser did not hold a valid administrator's license when she performed the evaluation.
Smyser's license was discussed during Knezevich's review, which he opted to make public. At that time, Smyser explained she had applied for and was told she received her Colorado license, but the process was slowed by a delay. She also said the date her license would take effect would be retroactive to when she applied for it, which Smyser said was before Knezevich's first formal review.
Knezevich also alleged that the three board members who voted against renewing his contract - Robin Crossan, Denise Connelly and Laura Anderson - had made disparaging public comments about him and had personal disagreements with him.
"He does not want to involve the district's students, staff and parents in extended public litigation; however, the non-renewal of his contract has caused him and his family serious financial harm," Bechtold wrote in the Sept. 9, 2008, letter. "The non-renewal of Mr. Knezevich's contract - particularly at such a late date - will make it difficult, if not impossible, for Mr. Knezevich to obtain another principal job elsewhere in the state."
Since his ouster, Knezevich was a finalist for the principal position of Soroco High School and Soroco Middle School, but he was not chosen for the position.