Soroco wrestling, 2008-09
Dec. 19 at Hayden
Dec. 20 at West Grand
9 a.m. Jan. 10 at Paonia
Jan. 17 at Rangely
Jan. 24 at League Tournament at West Grand
Feb. 13-14 at Regional at Grand Junction
Feb. 19-20 at State Denver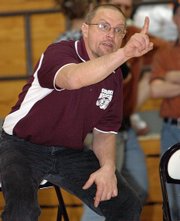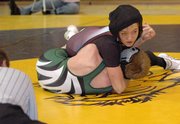 Steamboat Springs — Lauryn Bruggink didn't stop bouncing and swaying, dancing to the music piping through her iPod, on Saturday in the 10 minutes leading up to her final match in the Western Slope League wrestling tournament.
She didn't slow down while exchanging a quick handshake with her opponent, Rangely's Chance Peters, and she didn't stop as she strapped on her headgear and pulled up her singlet.
She didn't stop moving for the next six minutes either, burying Peters under an avalanche of first-round points to win the match and take third place in the league.
Bruggink hasn't stopped moving all season - and her success has the Soroco High School freshman poised to kick down the door of the Colorado wrestling establishment.
In the blood
Bruggink was so young when she started wrestling that she can't recall her first time on the mat. Her father, a Soroco assistant coach, can.
"I tried to steer her away," Travis Bruggink said about his youngest daughter. "The first year she wrestled in Peewees, I didn't teach her much. I thought if she got beat up a little, she wouldn't want to do it any more."
Fast-forward a decade and the failure of that scheme is evident.
Travis sat on the side of the mat Saturday and went through a range of emotions while trying to coach. A two-time high school wrestling state champion himself, he mixed advice with encouragement as he tried to slow his own racing heart.
"I always get nervous when she's on the mat," he said. "My son showed a lot of natural ability and talent at an early age, but his heart wasn't in it. My daughter, on the other hand :"
Lauryn stuck with wrestling into junior high and, after waffling, decided last spring to try the sport in high school.
The decision at first surprised her mother, Geri Bruggink, but it eventually became clear Lauryn was as influenced by a supportive mother as she was a wrestling-crazed father.
Lauryn found something to believe in after traveling to a youth girls wrestling tournament - not sanctioned by the Colorado High School Activities Association - last spring. Then she found something to dream about after traveling for a tour of the United States Olympic Center in Colorado Springs.
"We got to the gym where the women's wrestling team was training, and I watched her eyes get bigger and bigger," Geri said. "I could see she just thought, 'I want to play.'"
Muscling up
Lauryn Bruggink became the first girl to be ranked in the statewide On the Mat rankings last week, as Class 2A's No. 11 103-pound wrestler.
Later this year, she could become the first girl to win a CHSAA state tournament match, according to Tim Yount, of On the Mat.
"But I'm just trying to get to February," Lauryn said, referring to next month's regional wrestling tournament in Palisade. "After that, I want to see where high school takes me."
Lauryn could punch a ticket to Denver for state with a top-four finish at regionals. If her results from Saturday are any indication, she could be in for a trip to the Front Range.
She won three of her four matches and still hasn't forgiven herself for letting the fourth slip away. She lost an early lead, lost her positioning and was pinned.
"When she gets out of position is when she gets in trouble," Soroco wrestling coach Jay Whaley said.
Positioning is important for Lauryn, as she's always in danger of being out-muscled.
"I have to work around that," she said. "I have to be quicker, I have to wrestle smarter, and I can't be as sloppy."
Quick moves and an aggressive approach paid off later in the day. She pinned one opponent, then racked up an 11-4 lead against Peters with a couple quick takedowns and near-falls.
"She's tough," Rangely coach Jeff LeBleu said. "She's pretty strong for a girl, but she's also got great technique. That's where she's beating us."
He should know. His athletes are 0-4 against Bruggink this season. They'll likely get another crack at her at regionals. Bruggink is ranked third in that tournament's field.
Something to strive for
If it were all to fall together - a trip to state and at least one victory there - it would be historic and significant not only for Colorado and Soroco, but also for the entire Bruggink family.
"I'd cry," her mother said. "I know the sacrifices she's made and how difficult this road has been."
Lauryn's dad was careful not to push.
"I would like that to be her dream, not mine," he said. "She can do it. That's one of the goals we set this year, to make it to state."
It's an idea Lauryn said dances inside her mind the same way she waltzes around a wrestling mat.
"I think about it a lot - a lot more than most girls probably do," she said. "State would be the icing on the cake. I wouldn't necessarily want to set my goals that short, but winning at state would be amazing."