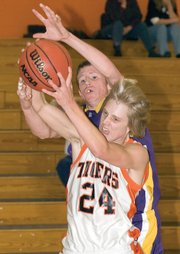 Results
Score by quarter
Hayden: 15-13-10-28 - 66
Little Snake River: 10-14-8-5 - 37
Hayden - M. Smartt, 18; G.Medvesk 11; B. Williams 10; Bill Zehner 7; J. Engle 5; Z, Barnes 5, Z. Engle 2.
Little Snake River Valley - C. Foster 11; D. Kazmar, 11; L. Chase 7; Z. Herold, 4; M. Enlgehart, 2.
Hayden boys basketball, 2008-09
Hayden — Most of the players on the Little Snake River Valley High School boys basketball team are too young to remember the television show "Get Smart," but that's exactly what they needed to do Tuesday night in Hayden.
The Tigers' Murphy Smartt netted 18 points, including several key shots at the end of the third quarter and into the fourth, sparking Hayden to a 66-37 win.
"They've got a bunch of really good shooters and they got hot," Rattlers coach Paul Prestrud said. "Smartt had a great game, and we just couldn't do anything to stop him."
The victory helped the Tigers overcome a 64-43 early-season loss to the Rattlers in Baggs, Wyo.
"It was our worst game of the year," Hayden coach Mike Luppes said about the two teams' first meeting. "They outworked and out-hustled us. Tonight, we played a much better game."
Despite the final score, Tuesday night's game was close until the fourth quarter. The game was tied at 32 with less than three minutes to play in the third. Hayden collected a couple of baskets to end the period, before cruising down the stretch.
Once the Tigers got hot, they started hitting from everywhere, and by the time the streak was over, the home team held a 29-point advantage.
Smartt led the Hayden attack with 18 points, Graig Medvesk had 11, and Ben Williams scored 10 after coming off the bench.
"We've played in runs all year," Smartt said. "We hit our run midway through the third quarter and never looked back. That's just the way we play the game. I had confidence our shooting would come around tonight, and once we got rolling, I knew we were going to win."
Cody Foster and Dominik Kazmar led the Rattlers with 11 points each, and Lyle Chase added seven to the Rattlers' total.
The victory improved Hayden's record to 8-4, with a key league match at home Friday against North Park. Tip off is scheduled for 8:30 p.m. at Hayden High School.