Hayden girls basketball, 2008-09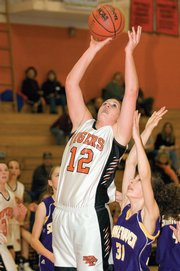 Results
Score by quarter
Hayden: 12-20-17-17 - 66
Little Snake River: 7-21-12-11 - 51
Hayden -H. Salazar 6 14-16 25, K. Sweetser 4 0-0 9; R. Koehler 4 0-0 8; E. Koehler 2 2-2 6; C. Mahanna, 0 4-5 4; K. Rolando 2 0-1 4; J. Woodley 2 0-0 4; K. Harris 1 0-0 2; E. Cromie 1 0-0 2.
Little Snake River Valley - Wille, 4 3-9 11; Kazmer 3 5-7 11; McKee 4 0-0 8; Sheehan 3 0-0 6; B. Herold 3 0-0 6; C. Foster 2 0-0 4; C. Criswell 1 1-2 3; R. Adams 1 0-0 2.
Hayden — The game was closer than Hayden girls basketball coach Eric Hamilton had hoped, but when the final buzzer sounded Tuesday, the Tigers had improved to 11-1 on the season.
"It wasn't our best game this season," Hamilton said. "We came out fine, but then we kind of stopped playing our game. This is a team that we should have beaten, and I would have liked to have seen our team make a statement."
Despite the coach's concerns, the Tigers led the Little Snake River Rattlers throughout the game and finished with a 66-51 win.
"Yeah, we came out kind of slow," Hayden junior Rachael Koehler said after the game. "There were times when they would catch up, but then we found our focus and were able to pull back ahead."
The Tigers held a five-point lead after the first quarter, and they clung to a four-point lead at the end of the first half. But by the fourth quarter, the home team had extended the lead to nine points. And despite sitting most of their starters down the stretch, Hayden ended the game with a 15-point advantage.
"I had confidence that we would find a way to get the job done," Koehler said. "We have a couple of big games coming up this weekend, and we are ready to get back on track, and to come away with some more wins."
Senior Holli Salazar led the Tigers with 25 points. Fellow senior Kylee Sweetser added 9, and Koehler finished with 8 points. The Tigers had nine players score in the game, and they were strong from the free-throw line in the second half, hitting 10 of 13.
Morgan Wille and Kelsey Kazmar led the Rattlers with 11 points each. Shelby McKee added 8, and Jaymie Sheehan and Brittany Herold each scored 6.
The Tigers are scheduled to play at 7 p.m. Friday at home against North Park. The Tigers will travel to Rangely for a 2:30 p.m. game Saturday against the Panthers.