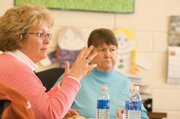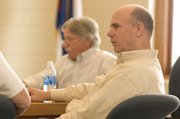 Struggling to provide services to a growing population that works out of town, the Moffat County Board of Commissioners may be compelled to weigh in on the proposed Steamboat 700 annexation currently being reviewed by the city of Steamboat Springs.
The idea was discussed Monday in Steamboat at a joint meeting of the commissioners from Routt and Moffat counties. The two boards also discussed Shell Oil's recent application for substantial water rights from the Yampa River west of Craig and transportation issues.
Particularly in the realm of health and human services, the Moffat County Commissioners said serving as a bedroom community to a large segment of Steamboat Springs' workforce is taxing the county's bottom line.
"While our population is less than Routt County, we have a much greater demand on social services. (A lot of it has to do) with that stream of cars you see going east and coming back west at the end of the day," said Moffat County Commissioner Tom Gray, who acknowledged that the workers bring their paychecks home to Moffat County. "From the county budget side, it's not a big enough plus."
Commissioner Nancy Stahoviak suggested Moffat County weigh in on Steamboat 700, and the Moffat County Commissioners were receptive to the idea. The 508-acre development just west of Steamboat's city limits proposes about 2,000 homes with a substantial percentage targeted at workers with low to moderate incomes. If Moffat County ultimately decides to endorse the project, it would lend weight to Project Manager Danny Mulcahy's argument that if his development isn't approved, workers increasingly will continue to locate in outlying communities.
The Moffat County Commissioners said they plan to follow their land-use board's recommendation to formally oppose Shell Oil's water right application filed late last year, but Gray was skeptical it would do any good.
"I don't think there's a leg to stand on to say this isn't a valid use of the water," he said.
Routt County Commissioner Doug Monger, however, is skeptical of Shell's claim that it needs 375 cubic feet a second for future oil shale operations.
"I think it's highly questionable myself," Monger said. "If it is a speculative right, and we can prove it's a speculative right, it is harmful."
If Routt County also decides to log an opposition, the two counties may share legal counsel.
On the transportation front, the commissioners discussed the Rocky Mountain Rail Authority, which is conducting a feasibility study of high-speed passenger rail service along the Interstate 25 and I-70 corridors, including a spur to Steamboat and Craig. Also discussed were the prospects of creating a regional transportation authority to fund transportation projects across county lines.
At the end of meeting, the two boards agreed to hold similar joint meetings quarterly.
"I just think it's a great idea for neighboring county commissioners to meet when we don't have a burning issue," Routt County Commissioner Diane Mitsch Bush said earlier in the day. When something like a wildfire across county lines does occur, "it works better if we've already been meeting regularly."
- To reach Brandon Gee, call 871-4210
or e-mail bgee@steamboatpilot.com