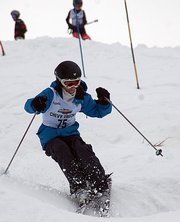 Steamboat Springs — The sloppy, wet snow that assaulted Steamboat Springs for the past several days can make a treacherous mogul run even more difficult, Steamboat Springs Winter Sports Club Freestyle maverick Meg O'Connell explained.
"When it gets slushy, it's hard on a mogul run because your skis start to stick. Then, when it gets really cold over night, it gets icy, and it's even harder to ski," she said. "It makes you more nervous."
The weekend's muck didn't ruin the mogul run at Howelsen Hill, however, and it didn't slow O'Connell and her Steamboat Springs teammates Sunday. O'Connell won the girls J3 portion of the Rocky Mountain Division Developmental Freestyle competition, leading the way as six skiers made the podium on their home course.
"The course was at its best today. It was perfect," O'Connell said. "I was happy with my run."
Kaden Mendonca joined O'Connell atop the podium, winning the J6 boys division. Steamboat also got podium finishes from Ben Hoefer in J6 boys, Payton McElhiney in J5 boys, Charles Toye in J4 boys and Jim Vanderbeek in J3 boys.
The team ripped down a tight 120-meter mogul run that held up well against the weekend's array of weather issues, wet snow and rain.
The course was too much for some as a few skiers struggled near the top and several more fell hard in the lower terrain. Still, most of Steamboat's skiers navigated the run without serious trouble.
O'Connell soared off the mid-track jump, breaking into well-defined spread eagles on both of her runs.
A complete 360 was the trick of choice for Steamboat's J4 boys, however.
"It's all about stalling," Jack Craig explained, moments after a perfect landing on his second run. "If you go off too early, you'll catch an edge, and if you go off too late, you won't get around."
Others opted to go a little more difficult, with mixed results.
"I went for a hele X," said Lennon Vaughan, who finished fourth in the boys J4 category. "I didn't really feel the X."
Jesse Pugh came up just short when he attempted a 720 spin off the jump on his second run.
"The bumps were so tight, and now it's slushy," he said afterward. "I fell on my (720). I tried it yesterday on this course. I don't think I had enough speed into the jump."
He still managed to pull out a seventh-place finish in the J4 boys.
"The kids did great. It was a great competition," SSWSC freestyle juniors coach Cory Prager said. "All of our Steamboat kids performed well. I am proud of every single one of them out there for performing their runs and tricks."
- To reach Joel Reichenberger, call 871-4253 or e-mail jreichenberger@steamboatpilot.com