Document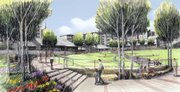 Steamboat Springs — Plans for an all-seasons promenade along the immediate base of the Steamboat Ski Area took a major step forward Friday but remain at the mercy of a vote by business and condominium owners in Torian Plum Plaza.
In a 7-1 vote Friday, the city's advisory committee for public improvements at the base of the Steamboat Ski Area approved a proposed alignment and grade for the promenade. Negotiating the details of the promenade as it passes Torian Plum Plaza has been the largest challenge in moving forward with what is considered the flagship project of the base area urban renewal authority created by the city in 2005. As the URA's funds dry up, one city official said a positive vote from Torian not only would move the promenade project along but also may spur city officials to allocate enough money to keep the URA alive past March.
Design professional Peter Patten cast the dissenting vote at Friday's meeting of the advisory committee, known as URAAC. The meeting began with a site visit and walk along the proposed promenade route. Among Patten's concerns is a segment of the promenade that would narrow to eight feet and take a sharp turn toward the interior of Torian Plum Plaza after passing Terry Sports.
"I think our promenade basically disappears here," Patten said. "I don't think this works with the rest of the promenade. : I think we've got to be really careful in this area because we've got a weakness here."
Others, including Redevelopment Coordinator Joe Kracum, didn't disagree but said the proposed alignment and grade was the best option that Torian owners would agree to. Kracum said he expects to know the outcome of the owners' vote by mid-February.
"It could always be better," said URAAC member Jane Blackstone of developers The Atira Group, "and I think this represents a solution that is workable."
"It's just not a battle you can fight right now," Steamboat Ski & Resort Corp. President Chris Diamond added.
Garage hidden
URAAC member and Torian owner Timm Harmon said he expects a positive vote and that one of the biggest hurdles was educating his fellow owners about the benefits of the promenade and what their increased costs will be to operate and maintain the promenade. Harmon also said "it was important not to lose the ski-in, ski-out access we've enjoyed all these years."
"I think we're pretty close," he said. "I really do. It's a value for everybody to revitalize the base."
Despite some lingering concerns, Kracum said the proposed promenade accomplishes its core mission.
"We wanted to get as close to a direct connection visually : from Gondola Square to Torian Plum Plaza," he said.
As it approaches Torian Plum Plaza, the promenade's main course includes a flight of stairs past the Sheraton Steamboat Resort where one side of Torian's underground parking garage is now visible. A narrower offshoot ramps around to the west before meeting back up with the top of the stairs to provide access for the handicapped. Plans include a landscaped hillside that also would serve as an amphitheater. The garage would no longer be visible.
'Hibernation' possible
The URA's financial situation also was discussed Friday. The URA only has enough money to continue work through March, and the issuance of a $20 million bond has been put on hold indefinitely because of the global economic downturn. While Diamond and others pushed for more research on issuing a bond - possibly a smaller one of about $5 million - Planning Services Manager John Eastman described a bond issue as "an idea that has deep skeptics within the highest levels of the management team and City Council."
Also, the URA will bring in $750,000 in tax increment financing this year to pay off its existing debt, which Eastman said is $150,000 less than expected.
"We have very little money," said Eastman, who attributed the shortfall to private redevelopment projects not coming forward as quickly as expected. "The only thing that's saving our bacon is that interest rates are very, very low."
However, Eastman said a positive vote from Torian owners would be an impetus for City Council to get creative with financing and keep the wheels turning on the promenade.
"We've reached a consensus from the city management staff that we need to give that vote a chance," Eastman said. "The key is and the emphasis is we have to have a positive Torian vote. : I think that will provide a very strong incentive for them to at least keep the design team together and get some construction documents together so when we do go to bond we're ready to go."
Otherwise, the URA's activities would probably enter what Eastman called a "hibernation" in April.