Hayden wrestling, 2008-09
9 a.m. Jan. 17 at Rangely Tournament
9 a.m. Jan. 24 at West Grand, League Tournament
6 p.m. Jan. 31 at Meeker
9 a.m. Feb. 7 at Eaton Tournament
Feb. 13 to 14 at Regional Tournament
Feb. 19 to 21 at State Tournament
Soroco wrestling, 2008-09
Dec. 19 at Hayden
Dec. 20 at West Grand
9 a.m. Jan. 10 at Paonia
Jan. 17 at Rangely
Jan. 24 at League Tournament at West Grand
Feb. 13-14 at Regional at Grand Junction
Feb. 19-20 at State Denver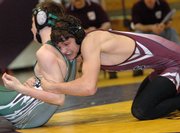 Kremmling — It was exactly the performance Hayden wrestling coach Ty Zabel was looking for, especially with the regional tournament looming just a few weeks away.
"We're real happy," he said. "That was real good."
Hayden High School wrestlers won five Western Slope League championships Saturday at the league tournament at West Grand High School in Kremmling. The Tigers were five-for-five in title contests, as each wrestler who advanced to the finals won that match.
Despite winning more than a third of the contested weight classes, Hayden came in third in the meet with 146.5 points, behind Paonia and Rangely. The team still found plenty to celebrate about afterward.
The biggest surprise for Hayden was Mitch Vedepo's run through the 130-pound bracket. He claimed the championship by outlasting Meeker senior Clint Sampson, an experienced wrestler who finished one match out of placing in last year's Class 2A 119-pound bracket.
Vedepo had his best day of the season, roaring back after finishing third at a tournament last weekend.
"He wrestled beautifully," Hayden assistant coach Ty Camilletti said. "He's just started to wrestle aggressive for six minutes. Before, he might wrestle well for two periods, then something bad would happen. He went six full minutes today and reaped the benefits."
Mitch Doolin and Coy Letlow won league titles for the second consecutive year, Doolin at 160 pounds and Letlow at 189. Chad Terry, at 103, and Treyben Letlow, at 215, also won their brackets.
Coy Letlow made quick work of his opponents, advancing to the finals with a lightning-fast first-round pin. He then pinned Meeker's Aaron Webster to win.
Doolin beat West Grand's Justin Strang in the finals.
"I came out a little slow last week, so I was focusing on being lighter on my feet," Doolin said. "This is great for seedings at regionals. After that last match, I feel good. I need to be (in) a little better shape, but it feels good."
Terry bested Paonia's Cody Clawson to win his division, and Treyben Letlow pinned North Park's Kenny Westfall, a state qualifier last year, to win.
"I couldn't quite get him with legs, so I got him with a scissor hold and wore him out," Treyben Letlow said. "At that end, that helped me get a move and pin him."
Hayden also got strong performances from Scott Armbruster, who was third at 119 pounds; Nick Williams, who was fourth at 125; Jake Magee, third at 152; and Kolton Miller, fourth at 171.
"All but one of our 10 boys placed," Zabel said. "It was a good day."
Soroco stumbles
Freshman 103-pound wrestler Lauryn Bruggink finished third, and sophomore David Straight was fourth at 145 pounds, but the Soroco High School wrestling team wasn't thrilled with its performance at the league meet Saturday in Kremmling.
"This was probably the most disappointing tournament this season," Soroco coach Jay Whaley said. "As a team, we looked pretty flat. I don't know why."
Bruggink was disappointed with a second-round loss to Clawson, but she wrestled better later in the day and won her final two matches. She claimed third place after beating a pair of Rangely wrestlers in the consolation bracket.
She pinned her first opponent, then established an 11-4 lead and held on in the final round, winning, 11-6.
"I didn't wrestle to my ability in those first two matches. I didn't wrestle smart, and I got out of position," she said. "My second-to-last match was probably the best of the day."
Sophomore David Strait finished fourth in the 145-pound bracket but was slowed by injuries, especially as he battled for third place. He lost his first match, then rode a series of byes to the consolation finals. He had an 8-5 lead against Rangely's Logan Osborne, but he injured his knee. He didn't immediately withdraw from the match, but Osborne quickly took the lead.