Photo Gallery
Steamboat boys basketball vs Glenwood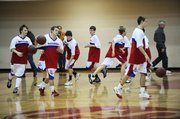 Steamboat Springs boys basketball, 2008-09
Dec. 5, Steamboat 48, Roaring Fork 34 at Roaring Fork Tournament; (1-0)
Dec. 6, Steamboat 53, Basalt 36 at Roaring Fork Tournament; (2-0)
Dec. 11, Castle View 57, Steamboat 38 at Steamboat ShootOut tournament; (2-1)
Dec. 12, Steamboat 70, Summit 41 at Steamboat ShootOut tournament; (3-1)
Dec. 13, Green River, Wyo., 68, Steamboat 41 at Steamboat ShootOut tournament; (3-2)
Dec. 19, Evanston, Wyo. 49, Steamboat 37 at Flaming Gorge Classic basketball tournament; (3-4)
Dec. 20, Cheyenne East 41, Steamboat 38 at Flaming Gorge Classic basketball tournament; (3-5)
Jan. 9, Steamboat 46, Battle Mountain 23; (4-5)
Jan. 10, Steamboat 55, Eagle Valley 30; (5-5)
Jan. 16, Steamboat 78, Palisade 46; (6-5)
Jan. 17, Steamboat 66, Delta 37; (7-5)
Jan. 23, Steamboat 65, Rifle 38; (8-5)
Jan. 24, Steamboat 47, Glenwood Springs 45; (9-5)
Jan. 27, Steamboat 44, Moffat County 32;(10-5)
Jan. 30, Steamboat 63, Eagle Valley 41;(11-5)
Feb. 6, Steamboat 50, Palisade 44;(12-5)
Feb. 7, Steamboat 54, Delta 43;(13-5)
Feb. 13, Steamboat 54, Rifle 45;(14-5)
Feb. 14, Glenwood Springs 61, Steamboat 51;(14-6)
Feb. 17 vs. Moffat County, 7:30 p.m.
Feb. 20 at Battle Mountain, 7:30 p.m.
Feb. 25 state playoffs begin
Steamboat Springs — The game was pretty much what everyone expected from two of the best teams in the Western Slope League.
Steamboat Springs and Glenwood Springs deserved to win Saturday's basketball showdown for first place. But behind a late fourth-quarter comeback and a coach seeing his young team growing up in a matter of 32 minutes, Steamboat won the first meeting Saturday, 47-45, in overtime.
"We took some huge strides" Saturday, Steamboat coach Luke DeWolfe said. "Regardless of our age or class, we played like seniors and really stepped up. We played with lots of heart and desire. This is a huge step for us."
In a game that saw four ties and five lead changes, Steamboat found the key mismatch down the stretch.
Steamboat senior Alex Wood found a matchup he liked in the overtime period and scored all four of Steamboat's points. His layup with 1:01 left in the extra frame gave Steamboat a 47-45 lead.
Glenwood came back and had every chance to tie the game up. Kevin Screen missed a tough turnaround jumper with six seconds left in overtime, and Jordan Ciani couldn't handle the rebound.
"Steamboat is tough anytime you come up to their house," said Glenwood coach Greg Hire, whose team was coming off a 72-62 overtime win Friday against Moffat County. "That's something we've always struggled with on the Western Slope is the back-to-backs. It was a very tough game, and the kids exerted a lot of energy (Friday). To come back and do it again, that gets tough."
Glenwood jumped out to its biggest lead of the game at 7-0. Steamboat responded and tied the game up at 11 after one quarter.
The Sailors (9-5 overall, 6-0 league) took their biggest advantage midway through the second quarter when the team went up 19-11. The Demons started the third quarter on fire and quickly turned a four-point deficit into a 32-27 lead heading into the fourth quarter.
Steamboat battled back and tied the game at 34, then took the lead on a Nelson Brassell 3-pointer. The Sailors looked as though they'd win the game in regulation when the Demons' Dakota Stonehouse hit a wide open 3-pointer with nine seconds remaining to tie the game at 43. Steamboat's Charles Wood just missed a 3 of his own as the buzzer went off before overtime.
In the extra frame, Glenwood scored first before Alex Wood made a pair of free throws and the layup to give the Sailors the lead for good.
"This is the most fun game we've played all year," Alex Wood said. "Just an opportunity to play a team like that and go into overtime is a jolt of energy."
Screen paced the Demons with 19 points, while Patrick Hailey scored 11. Brassell led Steamboat with 20 points, while Alex Wood chipped in 14 points and 11 rebounds.
The battle for the Western Slope League continues Tuesday. Glenwood plays Rifle, while Steamboat welcomes Moffat County for a 7 p.m. contest.
"This is a big win, and we should feel happy about it and celebrate a little, but the reality is we need to turn around because we're only halfway to our goal," DeWolfe said. "It's back to work. We just have to keep going. I think our kids understand what we're trying to do."