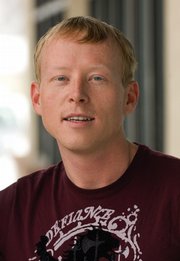 Steamboat Springs — Age: 25
Occupation: Clinic representative, Pet Kare Clinic
Place of birth: Oklahoma
Q. When did you move to Routt County, and what brought you here?
A. In 2004, for school.
Q. What¹s the biggest risk you¹ve taken recently?
A. Filling out this form.
Q. Describe your morning routine.
A. I don't get up until noon.
Q. What's the best piece of advice you¹ve ever been given?
A. Live your life the way you want the world to be.
Q. What three things would you want people to know about you?
A. I am gay. I really do care. I think people from Texas are all right.
Q. What did you want to be when you grew up?
A. Clinic representative.
Q. If you could invite any four people to dinner, who would they be and what would you talk about?
A. President Barack Obama, James Blunt, Tom Hanks and Sam Bradford. We would talk about how to make me famous.
Q. Do you collect anything?
A. Nope.
Q. In the Meatloaf song, "I'd do anything for love, but I won't do that," what is that?
A. Sleep with a woman.
Q. What was your first job?
A. Waiter at a Chinese restaurant.
Q. Who is your favorite superhero? Why?
A. Batman. Duh. Christian Bale.
Q. Do you have a tattoo? If so, what of and why did you choose it?
A. Yes. A dragon, the sign of wisdom.
Q. Do you have any phobias?
A. Fear of getting old.
Q. If you could go back in time, to what event or time period would you go?
A. I would never go back in time. Now is all I can handle.
Q. What is your favorite thing to do in Routt County?
A. Rafting and hot springs.
Favorites
Recreational Activity: Basketball
Book: "The Ruins"
Song: "I Kissed a Girl," by Kate Perry
Movie: "Boy Culture"
Color: Pink
Food: Pizza
Sport to watch: College football
Vacation spot: South of France
Magazine: Out