If you go
Pianist Alpin Hong performs May 15 at the Strings Music Pavilion. Hong plans to work with band students from Northwest Colorado to form an honor band, with students performing during the second part of his piano recital.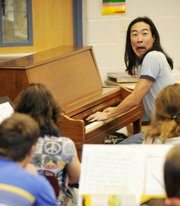 Steamboat Springs — Pianist Alpin Hong has the unique ability to get a room full of sixth-grade band students excited about music and then to absolutely horrify them.
In a workshop called "Movies to Games, Classically Trained," Hong entertained students at Soroco High School on Tuesday by playing the theme to "Halloween" without its distinctively eerie rhythm.
Wearing a big, hammy grin, Hong tapped out the horror movie notes to a cheery beat. Minutes later, he deadened his audience's laughter by playing the song as it's meant to be played, with a "you are going to get stabbed really soon" sense of immediacy.
His lesson to music students: Performance is all about delivery.
"You could look at music one way. You could look at it and be like, 'Wow, look at all the little black dots.' But music is a lot more than that," Hong said, explaining the need to be passionate and confident in every rehearsal and show.
Audience of the future
On Tuesday through Friday, Hong worked with students throughout Northwest Colorado as part of the Strings Music Festival Youth Touring Program. He stopped in Hayden and Soroco on Tuesday, Craig on Wednesday and Steamboat Springs on Thursday and Friday.
In each of his workshops and performances, Hong makes a point of leveling with students: He used to skateboard for a living, he has memorized the themes from "Mario Bros.," "Harry Potter," "SpongeBob SquarePants," "The Dark Knight" and countless others, and he's played through all "Final Fantasy" games.
"I'm just a normal dude. : But I've had the extraordinary chance to work my entire life at something I enjoy," he said. One of four pianists to play in the grand opening concert for the new Strings Music Pavilion in June 2008, Hong - who made his orchestra debut at age 10 and has released two full-length albums - made his educational circuit of Routt County for the second time.
In May, he'll return to Steamboat for a solo piano recital at the Strings Music Pavilion. During the second part of the program, he hopes to perform with local band students in a collaborative concert.
"I could just get up there and play a piano recital," Hong said to the Steamboat Springs High School concert band Thursday morning. "I wanted to take all those musicians out there : and be able to put together a piece with a lot of band members and create something really incredible."
In a series of field trips leading up to the concert, non-music students would get a chance to see what goes into putting together a performance, Hong said. He hopes the experience will instill in the young musicians he works with an excitement about performing and that he will have an impact on the people who go see the concert.
"I think the community is well-served by knowing that they don't have to go somewhere else to see that talent; they have to engender that talent in their own community," Hong said, adding that the concert would serve as an outlet for the talent he encountered on his 2008 educational tour.
"These kids are the future audience, and I think this would be a good way to feature as many of them as possible," Hong said. "This is the audience of the future. And if we don't invest in the audience of the future, then we're just going to be playing for ourselves."
Rebuilding lost connection
Strings started its Youth Touring Program in 1997 and, since that time, has offered programs in classical and world music mostly to elementary school students. Hong's diverse collection of interests - including skateboarding, video games and cheesy horror movies - paired with his accessible approach gave Strings a rare chance to reach teenagers, said Elissa Greene, IT director and development coordinator for the festival.
"When Alpin came along, we thought it would be a great opportunity to reach the junior high and high school kids, because that's who he really speaks to," Greene said.
Hong plays with a fire, excitement and delicacy that he aims to impress on music students. Greene said that intensity reaches beyond band or chorus classrooms.
"It's a chance to get an entire school excited about music and what it can mean," Greene said. "And Alpin's message is not just about music, it's about, 'Whatever you do, be excellent at it.' And I think he speaks that well."
Steamboat Springs High School band director Jim Knapp said a buzz went through his jazz and concert bands when they learned Hong would be sitting in on their classes. Hong hopes to work with Knapp to figure out what format and pieces might work best for the May concert.
The idea is to put students at ease and give them an opportunity to perform in a serious atmosphere most don't see until college, if ever, Hong said. In his workshops and classroom appearances, Hong said he tries to be as approachable as possible.
"I think that kind of connection has been lost between classical musicians and their audience."