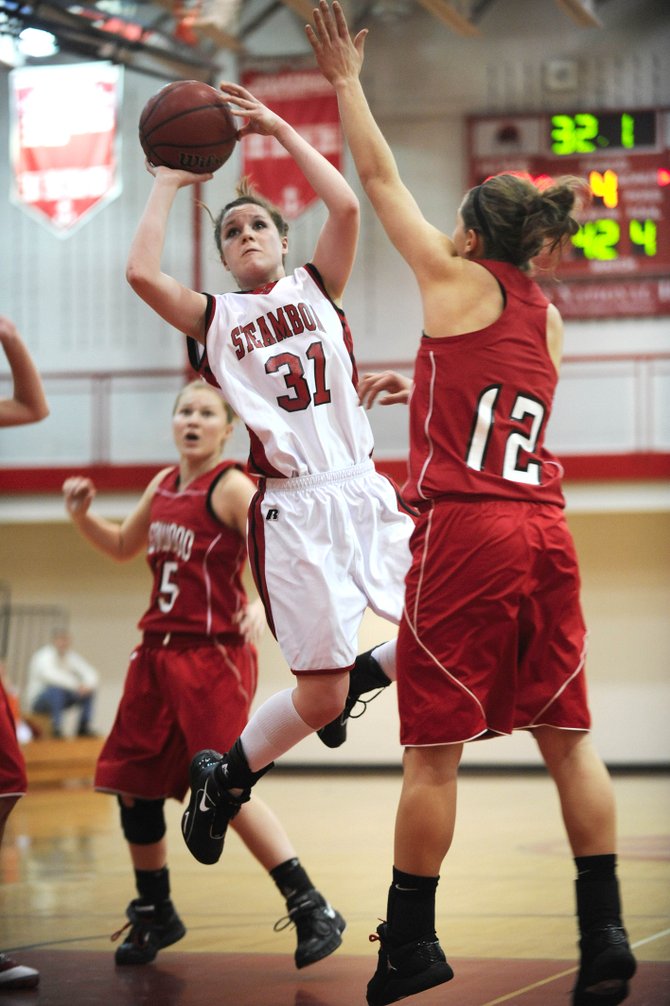 Glenwood slips by Steamboat girls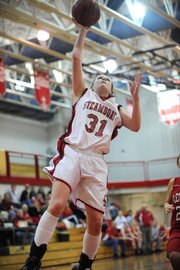 Steamboat Springs girls basketball, 2008-09
Dec. 5, Steamboat 57, Roaring Fork 40 at Roaring Fork Tournament; (1-0)
Dec. 6, Steamboat 63, Basalt 38 at Roaring Fork Tournament; (2-0)
Dec. 11, Steamboat 45, Summit 25 at Steamboat ShootOut tournament; (3-0)
Dec. 12,D'Evelyn 74, Steamboat 37 at Steamboat ShootOut tournament; (3-1)
Dec. 13, Green River, Wyo., 63, Steamboat 33 at Steamboat ShootOut tournament; (3-2)
Dec. 18, Star Valley, Wyo. 49, Steamboat 45 at Flaming Gorge Classic basketball tournament; (3-3)
Dec. 19, Green River, Wyo. 72, Steamboat 52 at Flaming Gorge Classic basketball tournament; (3-4)
Dec. 20, Rock Springs, Wyo. 69, Steamboat 29 at Flaming Gorge Classic basketball tournament; (3-5)
Jan. 9, Steamboat 47, Battle Mountain 27; (4-5, 1-0))
Jan. 10, Eagle Valley 41, Steamboat 39; (4-6, 1-1)
Jan. 16, Palisade 41, Steamboat 37; (4-7, 1-2)
Jan. 17, Steamboat 51, Delta 42; (5-7, 2-2)
Jan. 23, Rifle 57, Steamboat 53;(5-8, 2-3)
Jan. 24, Glenwood 57, Steamboat 48;(5-9, 2-4)
Jan. 27, Moffat County 55, Steamboat 48;(5-10, 2-5)
Feb. 6, Palisade 55, Steamboat 48;(5-11, 2-6)
Feb. 7, Delta 70, Steamboat 61;(5-12, 2-7)
Feb. 10, Steamboat 63, Eagle Valley 39;(6-12, 3-7)
Feb. 13, Rifle 53, Steamboat 45;(6-13, 3-8)
Feb. 14, Glenwood Springs 76, Steamboat 40;(6-14, 3-9)
Feb. 17 vs. Moffat County, 6 p.m.
Feb. 20 at Battle Mountain, 6 p.m.
Feb. 24 state playoffs begin
Steamboat Springs — Now it's just a matter of getting over the proverbial hump for the Steamboat Springs High School girls basketball team.
For the second game in two days, Steamboat had every opportunity to win but couldn't. This time, Glenwood Springs used a big first quarter and distinct advantage at the free throw line to beat Steamboat, 57-48, on Saturday.
"It was a lot of different things that did us in collectively," Steamboat coach John Ameen said. "We get down, claw back but don't get over the hump."
Steamboat fell behind quickly in the first quarter.
The Demons jumped out to a 19-9 lead behind 17 points from Laura Young and Katrina Selsor.
"The mindset coming in was we weren't prepared, and we came out lazy" Friday, Glenwood coach Bryan Derby said about Friday's loss to Moffat County. "We came out and played one heck of a ball game (Saturday). That's the one thing we wanted to do was get out to a fast start."
Steamboat closed to within 34-26 near the beginning of the first quarter when the Sailors had an opportunity to take control of the game.
Steamboat's full-court press started giving Glenwood problems. The Sailors created eight third-quarter turnovers, but they couldn't get anything going on the offensive end. Still, Steamboat had closed the gap to 37-33 heading into the fourth quarter.
But Steamboat forward Colleen King picked up her fourth foul with 7:02 remaining in the fourth, giving Glenwood an opportunity to go to work on the inside. Although the Demons weren't making field goals, they certainly were getting to the line.
Glenwood made 13 of 21 free throws in the fourth quarter - and 25 of 39 in the game - to take command.
Selsor led Glenwood with 24 points, 13 rebounds and six steals. Gracie Stockdale paced the Sailors with 27 points and nine rebounds.
Glenwood next plays Tuesday against Rifle. Steamboat plays at 6 p.m. Tuesday at home against league-leading Moffat County.
Ameen said despite the loss - Steamboat is fourth in league play by less than 10 points - he's confident the Sailors can play with the Bulldogs.
"We can compete," he said. "We've dug ourselves a little hole in getting to that upper echelon. We're playing like we can get the results. There are just certain breakdowns that are costing us. They're just small things."