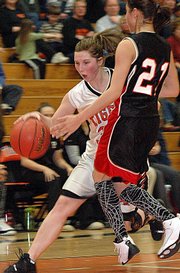 Game statistics
Girls: PAONIA 54, HAYDEN 49
Paonia 8-18-14-14 - 54
Hayden 10-9-19-11 - 49
Paonia - Pipher 4 1-3 9, Rienks 6 2-2 16, Godwin 3 4-4 12, Venard 1 0-1 2, Reed 2 4-6 9, Trujillo 1 2-4 4, Campbell 1 0-1 2. Totals 18 12-21 54.
Hayden - Salazar 4 3-4 11, Woodley 2 2-2 6, Mahanna 0 2-2 2, Koehler 4 3-4 11, Sweetser 2 4-5 10, Cromie 4 1-1 9, Vedepo 0 0-1 0. Totals 16 15-19 49.
3-pointers: Paonia (5) - Godwin 2, Rienks 2, Reed. Hayden (2) - Sweetser 2.
Boys: HAYDEN 65, PAONIA 33
Paonia 11-6-7-9 - 33
Hayden 18-15-17-17 - 65
Paonia - Bradford 1 0-0 2, Lund 1 0-1 2, Kropp 1 0-0 3, VanVleet 6 3-5 15, Emmons 5 1-2 11, Ford 0 0-4 0. Totals 14 4-12 33.
Hayden - Barnes 4 0-0 8, J.Engle 3 1-2 7, Z.Engle 3 0-0 6, Medvesk 7 1-2 19, Fulton 2 0-0 4, Zehner 2 0-0 4, Smartt 4 1-2 9, Williams 3 0-0 8. Totals 28 3-6 65.
3-pointers: Paonia (1) - Kropp. Hayden (6) - Medvesk 4, Williams 2.
Hayden girls basketball, 2008-09
Hayden boys basketball, 2008-09
Hayden — The Hayden High School girls basketball team left the floor Friday night as a gymnasium packed nearly full with their fans gave them an ovation like they haven't heard all year, an entire side of the gym standing to salute the best high school girls basketball team the town has fielded in years.
Unfortunately for the Tigers, the sendoff was in appreciation of the team's perfect 10-0 start to the season, not the 11-0 record a win Friday would have brought. The undefeated streak was snapped in Hayden with a 54-49 loss to Paonia.
The applause did little to help soften the blow.
"Some people said maybe it would help us to lose one game," Hayden senior Elaine Cromie said afterward. "We didn't need to lose this one."
A disastrous second quarter in which Hayden relinquished the lead, picked up a collection of costly fouls and went nearly eight minutes without a field goal proved too much for the team to overcome.
The squad played much better in the second half, eating into a deficit that swelled to as many as 9 points. A string of turnovers caused by a vicious Eagles press and a series of timely Paonia baskets spoiled any chance at a comeback.
The Tigers missed on several opportunities to tie the game within the last minute. A 3-point shot fell away after balancing on the rim when Hayden trailed, 52-49. The team also turned the ball over four times in the final 80 seconds.
Hayden's leading scorer, Holli Salazar, missed much of the second and third quarters because of foul trouble. Although she still finished with 11 points and tied with Rachael Koehler to lead the team, Paonia was successful in slowing her down.
"We didn't handle their pressure defense very well," Hayden coach Eric Hamilton said. "They played really tough defense on Holli, and we didn't get a lot of perimeter shots to go down. Paonia played a great game."
Hayden trailed by seven points at halftime, but it fought back in the third quarter. Cromie scored seven of her nine points in the quarter, pulling her team within two after she was fouled while scoring in the lane. The ensuing free throw made it 40-38.
Still, Paonia repeatedly came up with answers. Jordyn Rienks hit a pair of 3-point shots in the third quarter, part of her game-best 16 points.
"This will be a defining moment for our team," Cromie said. "We're going to show everyone we can take a loss and have it make us better."
Boys take out Eagles
The Hayden boys basketball team allowed Paonia 11 points in the first quarter. The Eagles wouldn't manage double digits in a quarter again as Hayden built a quick lead and never looked back, winning easily, 65-33.
"Our defense has been improving every game. That's helped us all the way around," Hayden coach Mike Luppes said. "If we keep showing up and playing like that, we'll be in pretty good shape."
Sophomore Graig Medvesk led all scorers with 19 points, connecting on four 3-point shots. In all, eight Tigers got on the board as the team's fast-paced attack and full-court pressure turned the game into a rout in the third quarter. The team improved to 7-4.