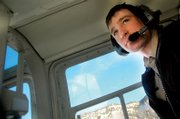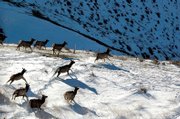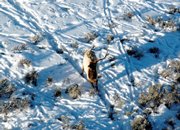 "Calf. Cow. Cow. Cow. Spike. Mature bull."
Darby Finley, Colorado Division of Wildlife terrestrial biologist, calls out his elk classifications while nonchalantly munching away on trail mix.
He counts off hundreds of elk into a tape recorder in about an hour, all while the helicopter pilot he's riding with takes the equivalent of evasive action to keep up with the elk scurrying beneath them.
Flying in circles, changing speeds rapidly, diving low to the ground.
It's part and parcel of Finley's favorite thing to do at work.
For the past few weeks, DOW crews have been flying across Northwest Colorado, looking for elk. Although the process is in no way a count of the regional population, Finley said, it goes into the agency's formula for figuring how many critters are out there.
"It's a common misnomer that they're counts," he said Wednesday. "With this, we're getting a general sample across the herd management area for the ratio of calves to cows to bulls, and that helps us get an estimate for the population. And it's about the most fun thing I do."
Winter's hand
This year's population estimate will be especially interesting for tourists, residents and local business owners, said Jamin Grigg, a DOW terrestrial biologist based in Craig.
People should be pleased that big game numbers were not drastically affected by the harsh winter between 2007 and 2008, he said.
The question often has been asked for the past few months, ever since hunters complained there weren't any animals left to pursue last fall, Grigg said.
"We still have a lot of elk and deer out on the ground," he said, adding that he would estimate there were 15,000 to 20,000 elk in the Bear's Ears herd, which roams north of the Yampa River.
That number is close to the DOW's desired population of 16,000, Grigg said, but there may be some work to do in the form of hunting pressure to bring the population down in 2009.
The Division also attaches radio collars with satellite linkups to elk and deer to track mortality and migration patterns.
According to agency records, cow elk survival rates last winter were about 89 percent, down from about 96 percent the previous five years.
Grigg said that showed a slightly worse winter but nothing detrimental to the local population.
Deer faired worse. DOW officials don't have doe survival records from last winter, but fawn survival declined from a roughly 72 percent average during the past five years to about 42 percent last winter.
Grigg said that is not a "catastrophic" loss and that the herd would rebound "just fine."
The places elk thus far have decided to call home within the county also should please some local landowners, officials said.
A home on the range
Finley and Grigg said their flights show elk primarily staying east of state Highway 13.
They hope the weather this winter stays consistent so that animals won't encroach on private ranches in the same large numbers they did a year ago.
Weather permitting, elk should continue to find enough food where they're at, Grigg said, because of shallow snowfall and the amount of forage that sprang up after a heavy runoff earlier this year.
"If things kind of stay on course weather-wise, and we don't get a lot of heavy snow : all these animals may not move a whole lot more," Finley said. "Elk don't have a habitat affinity like deer do. They'll pretty much stay where they can find food."
Puzzle pieces
As Finley walked away from the helicopter for a brief refueling at Craig/Moffat County Airport, he rocked on his heels, adjusting and readjusting his ball cap and smiled.
He's been at this flying thing for a few days now, and he has another half-day to go.
Then, the grind work begins. Finley will work with several other state-employed scientists to crunch numbers, create graphs and come up with an answer to the question people have been asking since hunting season: How many animals are left in Northwest Colorado?
The state won't have official estimates until it can run its full population model in February, which matches classification counts - such as the one Finley did from his seat inside the helicopter - with hunter surveys and animal survival rates.
Collin Smith can be reached at 875-1794 or cesmith@craigdailypress.com