Past Event
Friday, February 6, 2009, 7 p.m. to 10 p.m.
,
Not available / $5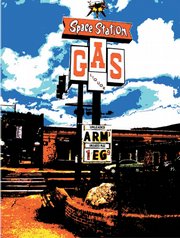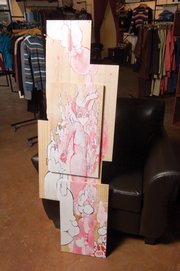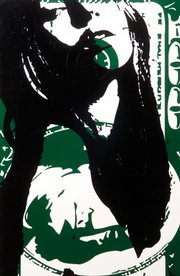 In the storefront corner of Urbane clothing, a massive aluminum tree sits on top of a 1,000-pound block of concrete. The sculpture came together in a 22-hour span leading up to the store's opening two months ago.
"About six of us rolled the whole thing down here at about 9 o'clock that night," said local artist Mike Benninghoven, a friend of Urbane co-owners Mel LeBlanc and Trent Kolste who designed and formed the tree. "The thing was, people didn't even take notice of these people walking with this big block that had 20 feet of cable dragging behind it."
The tree is joined in the store by Benninghoven's graphic-design-inspired works on stretched vinyl and local artist Daniel Daffer's paintings on found objects.
For the next First Friday Artwalk, Benninghoven hopes to supplement the work in Urbane with submissions from other Routt County artists. In the next two weeks, Urbane is inviting any interested artist to submit an unlimited number of pieces to display in the store during the February Artwalk, a downtown gallery event sponsored by the Steamboat Springs Arts Council. Urbane plans to book a DJ for the show, which will run from about 7 to 10 p.m. Feb. 6.
"I'm not trying to monopolize the space," Benninghoven said, explaining that while he's had a chance to show his work in a few Steamboat Springs venues, he doesn't think the same is true for many other young, local artists.
"Because Steamboat's such a transient place, I feel like there are a lot of younger artists who may never even try to show their art," he said. "And I feel like we miss out on a lot of that."
Urbane will offer a show in the store to the artist or artists who seem to fit best in the space. Organizers aren't sure how they'll judge submissions, and they encourage anyone interested to bring a piece for display.
The artist who wins the show will be allowed to sell their work at Urbane free of commission.
"I don't want to put a finger on it, because I think a lot of stuff would work really well in here," Benninghoven said about what style of art might fit best in the store. "That's going to be the approach to the whole show. It's not going to be to discourage anyone from doing their artwork."
LeBlanc said the show works to bring people into the new store and gives local artists a chance to display their work outside the atmosphere of a formal art gallery.
"There are just so many cool local artists who are friends of ours," LeBlanc said.
"We wanted to provide an event that'll bring people into the store, and then have a secondary purpose of allowing people to display their creativity somewhere in town, because a lot of the galleries in town aren't open to locals who are just doing their thing."