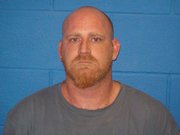 Steamboat Springs — The case of a Routt County man facing multiple felony charges related to drugs and weapons was transferred to district court after a preliminary hearing Thursday, in which Judge James Garrecht found prosecutors had sufficient evidence to continue with the case.
Hans Conrad Cartin, 33, was arrested Dec. 19 after a Routt County Sheriff's Office raid at his residence on Routt County Road 14C. Three rifles, some altered or in the process of being altered for automatic firing, were seized, along with about 20 grams of methamphetamine and 33 grams of cocaine.
Cartin's attorney, Larry Combs, argued Thursday that the drugs - taken from a safe in Cartin's bedroom - were for personal use by his client and his two roommates, and not for distribution. Drug paraphernalia containing residue were found in the other two bedrooms at the home, though no measurable amount of drugs was discovered anywhere except the safe, Sheriff's Office Investigator Ken Klinger testified.
Small plastic bags commonly used for resale and equipment used to manufacture glass smoking pipes were found in Cartin's room, but no documentation suggesting distribution was recovered, Klinger said.
Klinger said he was unable to assess whether the amount of drugs recovered would be unreasonable for three people to consume, but he did state that a single user's cocaine purchase is usually less than five grams.
"There really wasn't a lot of money, which we tend to see with drug dealers - no list of names, no bookkeeping," Garrecht said. "From the court's perspective, this is not a real strong case right now in terms of intent to distribute."
Wrinkles in the case will be ironed out as it proceeds in Routt County District Court, where Cartin is scheduled to appear at 1 p.m. Jan. 30. Thursday's preliminary hearing uses a lesser standard of proof than trial and serves only to assess whether there's probable cause that a crime was committed and that a reasonable person would think Cartin may have committed that crime.
Cartin faces felony charges of possession of methamphetamine and possession of cocaine with intent to distribute; possession of cocaine; four counts of possession of a weapon by a previous offender; and possession of a dangerous weapon. Cartin had a prior felony marijuana conviction from California.
He also is charged with possession of a defaced firearm and defacing a firearm, both misdemeanors, and possession of drug paraphernalia, a petty offense. He is charged as a special offender for allegedly committing the drug felonies while possessing a deadly weapon.
Cartin's case proceeded faster than normal because he has remained in custody at Routt County Jail since his arrest, Garrecht said. Tests on the drugs and weapons still are pending by the Colorado Bureau of Investigation and Bureau of Alcohol Tobacco and Firearms.
Cartin's arrest stemmed from a Steamboat Springs Police Department investigation into the theft of a flat-screen television. Police asked the Sheriff's Office to execute the warrants in connection with the theft because the people under investigation live outside city limits.
A 10-man SWAT team executed a search and arrest warrant Dec. 19 in the 30000 block of C.R. 14C, where Cartin was arrested without incident. The stolen TV was recovered in Cartin's room during the raid, though he has not been charged with theft, Combs said.