Photo Gallery
Yampa Valley Medical Center renovation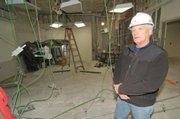 Steamboat Springs — Completing a major construction project at an operating hospital is "like trying to operate on a beating heart," Mike Knack, of Adolfson & Peterson Construction, said Friday.
"You've got to work with the flow," said Knack, project superintendent for Yampa Valley Medical Center's ongoing Family Birth Place and surgical services expansions.
All work has to take place without disrupting the day-to-day operations of the hospital, Knack said. Building the new surgery wing directly adjacent to its existing operating rooms means that when sensitive procedures such as back surgery are scheduled, workers temporarily grind to a halt, Knack said.
Dust containment is another concern, requiring construction areas to be sealed off from the rest of the facility, YVMC Senior Director of Support Services Tom Lake said.
The major expansion under way at the hospital will add 16,000 square feet of new space for the Family Birth Place and surgical services. In what Lake termed the "construction domino effect," an additional 16,000 square feet of existing space will be remodeled and some departments relocated after the new construction is completed later this year.
At the $13 million project's completion, the hospital will have doubled the size of its Family Birth Place from five rooms to 10, with the addition of a new family waiting room and lactation center, as well as expanded nurseries and office space.
To facilitate construction, two of the existing rooms have been closed and the nurses' station relocated, and some patients are being sent to the regular patient care floor, Knack said.
When the new labor and delivery and postpartum rooms are completed this spring, patients will use only the new facility while the remaining section of the original Family Birth Place is renovated, Lake said.
"For moms who are looking forward to delivering their babies in the spring, it just depends," YVMC spokeswoman Christine McKelvie said, meaning expectant mothers could receive care in varying locations depending on construction.
In the past 10 years, births in Steamboat Springs have increased 66 percent. In 1998, 259 babies were delivered at the former Routt Memorial Hospital, while construction was under way at the new YVMC campus. In 2008, 430 babies were born at YVMC.
"Because of increased business since the hospital opened, OB frequently overflows into patient care," Lake said.
"With the renovations, everyone will be able to stay here," McKelvie said.
Surgical cases have shown similar growth throughout the years. In 2000, the first full year YVMC was seeing patients, the hospital saw 2,766 surgical cases. By 2008, surgical cases had increased nearly 52 percent to 4,203, according to a news release.
The expansion will create a fourth operating room and two suites for minor and outpatient procedures, McKelvie said. Anticipating continued growth in patient loads, a fifth operating room is being built in the new surgical services wing, McKelvie said.
The basement of the surgical wing will be home to mechanical rooms, additional training space and locker rooms for hospital staff and additional dry and refrigerated storage for food service, McKelvie said.
"There are just so many components, so many things we're excited to have a space for, or a better space for," McKelvie said. "Most of our departments are being impacted by - and improved by - the construction."