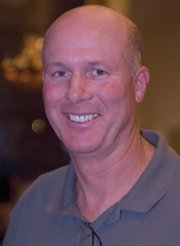 Steamboat Springs — Jon Roberts was officially hired as Steamboat Springs' city manager Tuesday.
The Steamboat Springs City Council ratified a contract with Roberts last week but withheld City Council President Loui Antonucci's signature pending further background checks. After reviewing a report from an investigative services company, Antonucci signed the contract Tuesday afternoon. Roberts has been the city manager in Victorville, Calif.
"Everybody had really good things to say about him," said Antonucci, who described Roberts as a team-builder, innovative and collaborative. "He is the person we thought he was."
According to the report, the additional investigation's purpose was to determine Roberts' "ethics, character and relationship status with colleagues, surrounding community leaders and the city of Victorville constituents." Government officials in communities near Victorville, law enforcement personnel and a real estate executive were among the people interviewed by a private investigator Friday.
"Everyone held Jon Roberts in a high regard and indicated he would be missed as a friend and community leader," the report concluded. "When referring to Mr. Roberts, interviewees described Mr. Roberts as 'aboveboard' : 'up front' and ethical.
"During these harsh economic times, our city governing agencies and local governments are in dire need of visionary leaders to rethink and develop to ways to address the problems we have inherited. By all accounts and representations, the city of Steamboat Springs may soon have one of those leaders in Jon Roberts."
Roberts said he wasn't put off by the prolonged hiring process, during which concerns were raised about lawsuits, a late audit and other issues related to his performance in Victorville.
"I found the process to be very engaging. I think the only thing for me was an eagerness to get out there and get to work," Roberts said. "I've kind of been on the sidelines reading about those things in the paper, and I'm just excited to get out there, roll my sleeves up and get to work."
A start date for Roberts has not been established. Roberts said he was meeting with the Victorville City Council on Tuesday to formally tender his resignation. Although his contract with Victorville requires him to give 30 days notice, Roberts said he and the Victorville City Council may agree on an earlier end date.
Under his contract with the city of Steamboat Springs, Roberts will be paid a base salary of $170,000 a year, plus benefits.