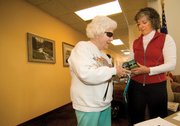 Steamboat Springs — Senior citizens lined up Monday to save some energy.
Change We Need handed out compact fluorescent light bulbs during lunch at the Steamboat Springs Community Center. Group members describe themselves as grass-roots, nonpartisan activists who want to support President-elect Barack Obama's administration. They also gave out and installed the low-energy bulbs Saturday as part of their Light for Change event.
"We're still giving them out," Linda Lewis said Monday morning. "We came up with about 375 total, what was donated, and we actually have more coming in today from Steamboat Lumber."
The group also planned to give out bulbs Monday in South Routt, she said. They targeted senior and low-income residents in the area and gave out as many as five bulbs per household. The push was meant to mark Martin Luther King Jr. Day on Monday and Obama's inauguration today.
Lynne Garell and her husband, Dale Morris, handed out bulbs at the Community Center. Some seniors had questions about brightness, Garell said, but the bulbs were popular.
"They seem to be right on top of it," she said.
Johnny Walker handled the research on CFLs for the group. He consulted the Yampa Valley Electric Association, which donated bulbs, to clarify some negative information he'd found.
"There is more mercury inside," Walker said. "They need to be disposed of properly, but even what's emitted when they're broken is less than what's emitted at the power plant to power an incandescent bulb."
CFL bulbs last 13 times as long as incandescent bulbs, he said. Replacing an incandescent bulb with a CFL bulb saves $50 during the life of the CFL bulb, Walker said. The light emitted is the same as that of an incandescent, he said.
"The other thing we heard is, 'What a waste to just take out your incandescent bulb and throw it away,'" he said. "It's not a waste. It's a savings."
Light for Change encouraged people to replace the five most used bulbs in their homes. The group collected partially used incandescent bulbs and donated them to LIFT-UP of Routt County, according to information from Change We Need.
Ace at the Curve, Xcel Energy, Wal-Mart, Steamboat Ski & Sport, City Market, Safeway and George Danellis also donated bulbs.
Change We Need meets at 6 p.m. Sunday for a potluck at the Solstice Building, 419 Oak St.
- To reach Blythe Terrell, call 871-4234 or e-mail bterrell@steamboatpilot.com