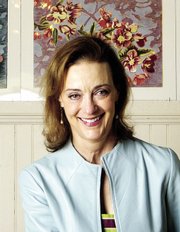 Steamboat Springs — Marion Kahn has resigned as executive director of the Steamboat Springs Arts Council. Her last day of work is Feb. 10.
Kahn took over as executive director for the Arts Council in March 2007. She resigned the position in December 2008 because she had completed much of the work included in her original three-year plan for the organization, she said during a telephone interview Monday.
"When I came on, I gave the board a three-year work plan. And in 18 months, we've accomplished what we thought would take three years to do," Kahn said.
Going into its 36th year, the Arts Council board of directors faces a 2009 budget that reflects the impact of a 60 percent cut in city funding for its operations and programs. Kahn said she did not know how the board plans to handle the cut, or how quickly its members would move to find a new executive director.
"I think they'll assess and figure out what they want to do for the next phase of the organization's growth," Kahn said. "I don't know precisely, but I would see this year as pretty much of a maintenance year, where you keep things going that you have going."
Included in the organization's sources of funding are sponsorships for "Cabaret" and other events, vendor fees for the Art in the Park and Holidays in the Rockies craft fairs, private donations and membership dues.
"In terms of their sources of revenue, all of that is in place," Kahn said. "It's a very cyclical business. You go through periods where you have cash coming in, and then you go through periods where you have a year where you don't have those resources."
The Arts Council is a 501(c)(3) nonprofit organization. It uses the city-owned Depot Art Center rent-free, and pays for maintenance of the building. In December, Kahn estimated the Arts Council's annual operating budget at $255,000. On Monday, she said the organization's income for 2008 was about $300,000; that sum included a $22,000 donation, the largest single gift in Arts Council history.
"Our year-end gifts were larger, but there were fewer of them," Kahn said. "We could see year-end and into early January : we're not being spared the recession."
Kahn said her connection to the Arts Council board remains "an excellent relationship."
"I'm very close to our staff, our board, the docents and many people that have supported us and just made tremendous lifelong friendships here," she said. Kahn said she plans to stay in Steamboat Springs and work with Marion Kahn Communications Inc., her marketing and public relations firm.
- To reach Margaret Hair, call 871-4204 or e-mail mhair@steamboatpilot.com