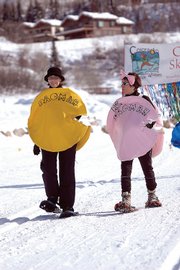 Steamboat Springs — Before it graced her body Sunday, Steamboat Ski Touring Center operator Birgitta Lindgren guessed she hadn't worn her hot pink, electric purple and sea green one-piece ski suit since 1987.
"This was actually my shop uniform in the '80s," Lindgren said, explaining her wardrobe choice for the "Flashback to the '80s"-themed Eighth Annual Colorado Ski For Women 5K. The event, a fundraiser for Advocates Building Peaceful Communities, brought 131 participants to the Ski Touring Center on Sunday.
Donations for the benefit totaled about $3,400. Along with about $2,000 from sponsors and money from a silent auction, the event raised close to $6,000 for Advocates, an organization that aims to decrease and eliminate domestic and sexual violence.
Among the elaborately costumed finishers were Linda Faiola and Jane Blackston. The two crafted Pac-Man and Ms. Pac-Man costumes out of cotton and fabric insulation, and they strung ping-pong balls on metal wire to substitute for Pac-Man pellets.
"When you mention the theme (is) the '80s, the first thing our generation thinks of is fluorescent and leg warmers. Mine was Pac-Man," Faiola said, adding that she and Blackstone won the Ski for Women costume contest in 2008 by "putting on everything we could find." The two women completed the Ski for Women course on snowshoes.
"It's a really good cause, it's a lot of fun, and it's an outlet for Linda's creativity," Blackstone said.
Advocates Executive Director Diane Moore said the 1980s theme was a tribute to crisis response services that started in 1983. Formerly known as Advocates Against Battering and Abuse, the organization's programs include high school peer education and criminal justice advocacy.
"When we first started the program, it was to provide crisis response to victims of domestic violence," Moore said.
Since that time, Advocates' services have grown to include a residential safe house, counseling and community education.
"It was time to do it," Moore said about the name change. "The reason we changed it was that it represented more the myriad of programs we have."
The Advocates mission resonated with Phyllis Cron, who recently moved to Steamboat Springs and pushed past an old ski injury to complete several laps on cross-country skis near the Ski for Women finish line.
"The way I look at it, there's nothing more important than helping to support a cause that's a positive force for the community," Cron said.
Advocates provides services to about 320 people a year, Moore said. Money raised at the Eighth Annual Colorado Ski for Women will go toward sexual assault outreach education programs. Sponsors and contributing groups for the event included TCD, Starbucks, SmartWool, Alpine Bank, KFMU 104.1 FM and the Yampa Valley Boys.