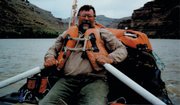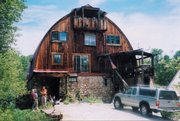 Photo Gallery
Memories of Wayne Kakela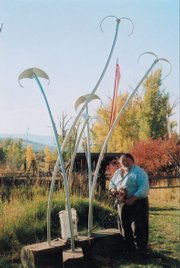 Steamboat Springs — To Wayne Kakela, everybody was allowed in.
"He was known. Not in the way, say, the president of the bank would be known. But known by more strata in society than anybody else I can think of," said John Whittum, a fellow Strawberry Park resident and longtime friend of Kakela's. "He had no limitations in his acquaintances."
Wayne Kakela was a rancher, sculptor, river runner, designer, swimmer, filmmaker, skier, father, friend, reader and motorcyclist. He was a broad thinker who had a broad approach to life.
Kakela died of natural causes on Jan. 10. He was 73.
Among his community contributions, Kakela was the ditch rider for the Soda Creek Ditch in Strawberry Park, crafted the flock of metal sheep at the Stock Bridge Transit Center, baled about 50 tons of hay every spring and spent years on the board of directors for The Lowell Whiteman School.
In the late 1960s, he and his wife, Linda, opened their Strawberry Park barn as a ski lodge, teaming with Mount Werner to offer travelers a place to sleep, two meals and a one-day lift ticket for $9.50.
"It made this very expansive network of friends, many of whom kept coming back to Steamboat and ended up staying on in the valley and serving the community," Linda Kakela said about the lodge, known to Wayne and everyone else as "The Barn."
"He just loved this community and being able to provide a place where people could gather and enjoy this Yampa Valley that he loved," she said.
Kakela and his wife had two daughters, Kate and Anne.
'Full of the joy of life'
Gary Hertzog, who said he met Wayne in 1964, remembers annual fall bonfires at The Barn that he and Kakela sometimes would fall into in the course of a party. It didn't take long to learn that the Kakela ranch was "a great place to spend as much time as you could," he said, largely because of Wayne's love for it.
"He was one of the most positive guys I've ever known, and I never saw him when he was in a bad mood or anything like that. He was always just full of the joy of life," Hertzog said.
Paul Stettner met Wayne on a river trip in the late 1960s and stopped at The Barn on a post-college "unending ski trip." In years of taking river running trips across the American West, organizing motorcycle races and exchanging tips for brewing beer, Stettner - along with too many people to count - came to know Kakela's "wide-open approach to life."
"His character was open to just about anything that came along. And even if he wasn't, he'd let you know right away," Stettner said.
After graduating from Dartmouth College, Kakela decided he needed to experience the West instead of read about it, so he got on a motorcycle and rode across North America, Linda Kakela said. He spent a year studying art in Mexico before taking a teaching job at Lowell Whiteman.
"I would say that during that year and in his travels around all of North America and South America, he just had this great respect and love of the great cultures of the world," Linda Kakela said.
'He made art irresistible'
A supporter of art and community, Wayne Kakela took in many young artists, including some of those living and working in Steamboat Springs this summer as part of the Colorado Art Ranch residency program.
"It was a very reciprocal relationship, where Wayne wanted to encourage young artists and be inspired by their work as well," Linda Kakela said.
Nancy Kramer, who worked with Wayne often in her 13 years as executive director of the Steamboat Springs Arts Council, said it would be hard to chronicle all his creative endeavors. A visionary artist who loved to reuse old materials, Wayne once filled the Baggage Room at the Depot Art Center with a pontoon boat-themed installation called "Blow It Up." He took a sculpture to the Burning Man festival in 2000, and he contributed to Home ReSource's "Creative Community" salvage art project this summer.
"He was so creative, from the intellectual perspective down to the whimsical. He made art irresistible," Kramer said.
'That magnetism few have'
The approachable quality of Kakela's art translated to his character.
"He has that magnetism that few people have, and such depth and capacity. He was a marvelously outgoing fellow," said Whittum, who worked with Kakela at Lowell Whiteman.
A staple of Strawberry Park who could often be found haying with a 1930s John Deere tractor, keeping an organic garden or tapping into renewable energy sources, Kakela was a social fixture and a constant adventurer who will be missed.
"He was out for the greatest experiences in life, and I think he probably achieved most of them," Whittum said.