Steamboat Springs girls basketball, 2008-09
Dec. 5, Steamboat 57, Roaring Fork 40 at Roaring Fork Tournament; (1-0)
Dec. 6, Steamboat 63, Basalt 38 at Roaring Fork Tournament; (2-0)
Dec. 11, Steamboat 45, Summit 25 at Steamboat ShootOut tournament; (3-0)
Dec. 12,D'Evelyn 74, Steamboat 37 at Steamboat ShootOut tournament; (3-1)
Dec. 13, Green River, Wyo., 63, Steamboat 33 at Steamboat ShootOut tournament; (3-2)
Dec. 18, Star Valley, Wyo. 49, Steamboat 45 at Flaming Gorge Classic basketball tournament; (3-3)
Dec. 19, Green River, Wyo. 72, Steamboat 52 at Flaming Gorge Classic basketball tournament; (3-4)
Dec. 20, Rock Springs, Wyo. 69, Steamboat 29 at Flaming Gorge Classic basketball tournament; (3-5)
Jan. 9, Steamboat 47, Battle Mountain 27; (4-5, 1-0))
Jan. 10, Eagle Valley 41, Steamboat 39; (4-6, 1-1)
Jan. 16, Palisade 41, Steamboat 37; (4-7, 1-2)
Jan. 17, Steamboat 51, Delta 42; (5-7, 2-2)
Jan. 23, Rifle 57, Steamboat 53;(5-8, 2-3)
Jan. 24, Glenwood 57, Steamboat 48;(5-9, 2-4)
Jan. 27, Moffat County 55, Steamboat 48;(5-10, 2-5)
Feb. 6, Palisade 55, Steamboat 48;(5-11, 2-6)
Feb. 7, Delta 70, Steamboat 61;(5-12, 2-7)
Feb. 10, Steamboat 63, Eagle Valley 39;(6-12, 3-7)
Feb. 13, Rifle 53, Steamboat 45;(6-13, 3-8)
Feb. 14, Glenwood Springs 76, Steamboat 40;(6-14, 3-9)
Feb. 17 vs. Moffat County, 6 p.m.
Feb. 20 at Battle Mountain, 6 p.m.
Feb. 24 state playoffs begin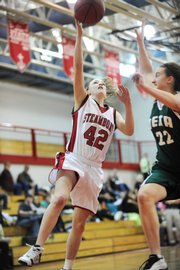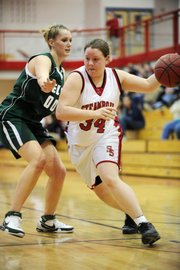 Steamboat Springs — As early into the Western Slope League schedule as it is, the Steamboat Springs High School girls basketball team might look back at Saturday's game against Delta as a season-defining win.
Just a night after giving up a 13-point fourth-quarter lead to Palisade, Steamboat found itself in a similar position.
The Sailors were up nine points heading into the fourth quarter when the Panthers made a run. But this time, there wasn't the sloppy play, rushed offensive possessions or soft defense. Instead Steamboat played like it had for most of the game, picking up a 51-42 win.
"To our girls' credit, they bounced back," Steamboat coach John Ameen said. "Not a moment in that game did they let down or show signs of being upset or emotionally down from (Friday).
"That shows a little bit of character. We're right there in that league race now."
There certainly was that eerie feeling in gym as Delta made its run. Steamboat was leading, 45-33, with 5:08 left when Delta looked like it would get back into the game. The Panthers scored six straight points to cut the lead to 45-39 with 3:15 remaining. But unlike Friday, Steamboat responded on the offensive end.
Colleen King made a layup, and Gracie Stockdale added a field goal to put Steamboat up, 49-39, with 1:12 remaining.
Friday "didn't enter my mind at all, actually," said Steamboat point guard Brittany Long, who was instrumental in slowing things down for the Sailors. "As soon as it got down to 1:30 and we were 10 ahead, I was pretty content. (Friday) more so than (Saturday) I didn't even look at the clock or the scoreboard. I just played as hard as I could."
After a back-and-forth first quarter, Steamboat started to build a lead toward the end of the second and beginning of the third quarters.
The Sailors took a 28-21 lead into halftime and extended it to 41-32 heading into the fourth quarter.
"We really shut all their scorers down. That's how we won," Long said. "We really listened to the scouting report."
Darcy Hornstein led Steamboat with 12 points, while King added nine.
The win puts Steamboat at 5-7 overall and 2-2 in the Western Slope League. Maybe more importantly, the win gives Steamboat some much-needed confidence as the team heads into the meaty part of its schedule.
"It's a big win for our confidences and seeing we have the potential," Ameen said. "What this does for our confidence is unbelievable."
Steamboat next plays at 6 p.m. Friday at Rifle.