Steamboat Springs boys basketball, 2008-09
Dec. 5, Steamboat 48, Roaring Fork 34 at Roaring Fork Tournament; (1-0)
Dec. 6, Steamboat 53, Basalt 36 at Roaring Fork Tournament; (2-0)
Dec. 11, Castle View 57, Steamboat 38 at Steamboat ShootOut tournament; (2-1)
Dec. 12, Steamboat 70, Summit 41 at Steamboat ShootOut tournament; (3-1)
Dec. 13, Green River, Wyo., 68, Steamboat 41 at Steamboat ShootOut tournament; (3-2)
Dec. 19, Evanston, Wyo. 49, Steamboat 37 at Flaming Gorge Classic basketball tournament; (3-4)
Dec. 20, Cheyenne East 41, Steamboat 38 at Flaming Gorge Classic basketball tournament; (3-5)
Jan. 9, Steamboat 46, Battle Mountain 23; (4-5)
Jan. 10, Steamboat 55, Eagle Valley 30; (5-5)
Jan. 16, Steamboat 78, Palisade 46; (6-5)
Jan. 17, Steamboat 66, Delta 37; (7-5)
Jan. 23, Steamboat 65, Rifle 38; (8-5)
Jan. 24, Steamboat 47, Glenwood Springs 45; (9-5)
Jan. 27, Steamboat 44, Moffat County 32;(10-5)
Jan. 30, Steamboat 63, Eagle Valley 41;(11-5)
Feb. 6, Steamboat 50, Palisade 44;(12-5)
Feb. 7, Steamboat 54, Delta 43;(13-5)
Feb. 13, Steamboat 54, Rifle 45;(14-5)
Feb. 14, Glenwood Springs 61, Steamboat 51;(14-6)
Feb. 17 vs. Moffat County, 7:30 p.m.
Feb. 20 at Battle Mountain, 7:30 p.m.
Feb. 25 state playoffs begin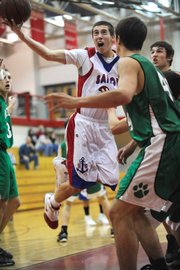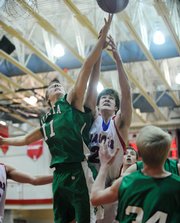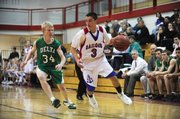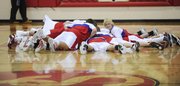 Steamboat Springs — At one point earlier this season, it looked like the Steamboat Springs boys basketball team couldn't shoot the basketball.
Now, on the heels of a 66-37 win against Delta on Saturday, it feels like the team can't miss.
For the second night in a row - Steamboat shot 57 percent against Palisade on Friday - Steamboat shot better than 50 percent from the field, had four players in double figures and ran away with another Western Slope League game.
"Hopefully, we keep doing that," Steamboat coach Luke DeWolfe said with a smile. "We become a pretty hard team to deal with when the scoring is mixed around from not just one guy. If we can continue doing that, then great."
Steamboat had all but decided Saturday's contest halfway through the second quarter. After jumping out to a 22-11 first-quarter lead, the Sailors turned it on in the first five minutes of the second quarter.
Led by Nelson Brassell's 10 second-quarter points, Steamboat started the quarter on a 16-3 run to extend its lead to 38-14 with 2:35 remaining in the half.
"We've just been a lot more confident in our shooting," Steamboat's Jack Spady said. "The team is starting to gel and come together. Everyone gets their points. Sometimes someone has a good night, and sometimes someone else does."
On Saturday, it seemed as though all the Sailors had good nights. Spady scored 15, Alex Wood had 13, Charles Wood had 13, and Brassell led all scorers with 18. The last Steamboat starter, point guard Isiah Forsyth, dished out 11 assists including a behind-the-back feed to Charles Wood in the third quarter that gave the crowd a collective gasp.
Now Steamboat (7-5 overall, 4-0 in league play) prepares to get into the tough part of its schedule. Steamboat has dates with league favorites Glenwood Springs and Moffat County still ahead, and it plays six of its next seven league games on the road.
DeWolfe said playing like they did the past two games should help a relatively young Sailors team prepare to be road-tested.
"The competition picks up now," DeWolfe said. "We get into the heart of our schedule with Glenwood and Moffat coming up. They're teams that definitely can compete. The stakes are a lot higher than they were.
"But we're really happy, and I think the kids are excited. This is something we knew since this summer. It's been a process, but we think we're at a point where we're starting to produce."
Steamboat next plays at 7:30 p.m. Friday at Rifle.