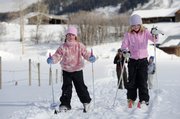 Clark — A new campus for the North Routt Community Charter School is receiving mixed reviews from students even as a $500,000 grant brings the idea closer to reality.
Housed in a three-building complex of an old schoolhouse, a converted barn and a yurt, the charter school is planning to relocate to nicer quarters as soon as possible.
Filled nearly to capacity with 61 students enrolled, school officials would like to expand to a six-classroom building half a mile away from the current campus. School Director Colleen Poole said the 1,200-square-foot building will provide locker space, room for expansion and a room big enough for all-school assemblies.
When the students sang carols to parents during the holiday season, it was an outside-only affair because none of the buildings are big enough
to bring the group inside.
The architectural design work has been completed, and Poole said that if everything goes as well as possible, she would like to see the new building operational by the fall of 2010.
The $500,000 energy impact grant, from the Department of Local Affairs, is only the first step in raising the $2.4 million the school needs for the new space, Poole said. The rest of the money will be raised through more fundraising and community donations.
But for some students, the move doesn't seem necessary.
"I don't want it," said seventh-grader Will Zupan, on a break from cross-country skiing during gym class. "I hope it's kind of small."
Fifth-grader Ethan Cosgrove agreed that the school's small size is a benefit.
"I like this tiny little school. It's homey," he said.
Other students were more excited about the potential of getting their own space.
"I was thinking I would like lockers and rooms for art class and math," third-grader Hannah Rosencutter said as she skied a lap around a field behind the school. "I think it's going to be more fun. It's going to be big."
Kindergarten teacher Missy Bierne said she shares the student's affection for the school and its character, but she also said that it is time to move.
"Some of us love this facility, but it limits the number of students we can have, and we don't want that," she said. "I love (my classroom). It has a little gas stove and a bay window, but I only have seven students in there, and that's maxed."
Poole said the new building will hold 90 students, an important increase because of the large number of kindergarteners who likely will come to the school next year.
"We want to not turn away anyone," she said. "That's why we need to get our building built as soon as possible."