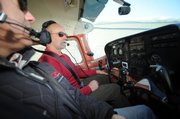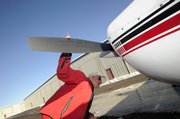 Document
Steamboat Springs — It's about 30 degrees, the sun is shining, and there's not a hint of wind Thursday afternoon when flight instructor Joe Birkinbine says, "Take a look outside. What would you say about today?
"It's a beautiful day," he continues. "Right?"
Not so fast.
"A pilot has to say, 'Let me check the winds aloft at 12,000 feet,'" Birkinbine continues. "If the winds aloft at 12,000 feet are 20 knots (about 23 mph) or higher, it's not a beautiful day for a pilot."
Paying special attention to weather that can be variable and extreme year-round is just one of the things Birkinbine teaches students in specialized courses on mountain flying. Birkinbine has an Airline Transport Pilot License - the highest level of aircraft pilot certification - and is a certified flight instructor with 20 years of experience in the Yampa Valley.
"The most challenging thing about flying in the Yampa Valley is weather," Birkinbine said. "This includes how difficult the weather is to forecast."
Density altitude, mountain waves and mountain obscuration are other challenges of high-altitude mountain flying, which the Aircraft Owners and Pilots Association calls "one of the more dangerous activities (general aviation) aircraft undertake each year. On average, 17 people die annually in GA accidents in the mountains of Colorado alone." In less than eight months, four planes departing from or en route to Routt County airports have crashed, killing 10 people:
- Mark and Levi Klapperich, of Hayden, died in a May 25, 2008, plane crash near Fish Creek Reservoir east of Steamboat Springs. The plane left from Yampa Valley Regional Airport.
- A Texas family of four died in an Aug. 15, 2008, plane crash on Mount Guyot in Park County. The plane left from Steamboat Springs Airport.
- Steamboat Springs couple Joseph and Suzette Brumleve died when their plane crashed Dec. 22, 2008, about 10 miles west of the runway at YVRA. The two were returning from Hutchinson, Kan.
- Shortly after taking off from YVRA on Jan. 11, part-time Steamboat Springs residents Bill and Patrick Rooney died when their plane crashed upside down 1 mile north of the airport.
Saying 'no'
Investigations into the two most recent local crashes are incomplete, but Birkinbine and Larry DeAndrade, general manager of Galaxy Aviation at YVRA, said weather conditions including snow and poor visibility probably played a role.
DeAndrade said Galaxy Aviation deals predominantly with business jets.
"When you have professional pilots with two-pilot crews, the safety value is astronomically higher," he said.
But situations quickly can become overwhelming, DeAndrade said, when the Yampa Valley throws a wild card at pilots in personal planes.
"You've got a heavy workload when it's just one pilot. They've got a tougher task," said DeAndrade, who described the weather as "horrendous" on Jan. 11. "Even the greatest pilot on that day would have been taxed."
Although the Federal Aviation Administration does not require it, local pilots said specialized instruction is a very good idea for pilots unfamiliar with mountainous terrain.
"It's just good practice," DeAndrade said. "It's really, really important. There's things that happen at 7,000 feet that don't happen at sea level."
Mel Baker, airport manager at Steamboat Springs Airport, agreed and said most pilots visiting the Yampa Valley make good decisions and prepare themselves as much as they can.
"The accident records prove that. It's still much safer to fly than to drive," Baker said. "You don't just get your certificate and it's over. : There's just so much you can do to increase your knowledge and experience. : I would not get in an airplane and fly into an area I was not familiar with."
In addition to training, Birkinbine said mountain pilots also have to drop their egos at the cockpit door and exercise sound judgment. Birkinbine said he postpones his flights about 20 percent of the time because he's not comfortable with conditions and has waited out the weather for as many as three days. Birkinbine said the approach is contradictory to the conventional wisdom that equates a high number of flight hours with excellence.
"What's the difference between a good pilot and an excellent pilot?" Birkinbine asked. "An excellent pilot says, 'No.' Can you feel the passion in my voice? The more you say 'no' because you understand and evaluate the risk factors, the more you're moving toward being an excellent pilot."
By all accounts from friends and family, the Brumleves and Bill Rooney were well-trained pilots who knew how to say 'no.' The Brumleves were returning from their routine annual maintenance inspection in Kansas, and the Rooneys had delayed their flight a day because of strong Santa Ana winds near their Southern California destination.
The fact that tragedy could befall even these seasoned and cautious pilots underscores the exceptional dangers of mountain flying.
"They were two pilots I would have flown with any time. They were not people to take risks," Baker said about the Brumleves, whom he knew personally. "They did more than the average pilot to have all the training they could get to be safe. And I respected them for it."
Baker said that in both recent crashes there could have been factors - such as a major, catastrophic electrical failure - that would have been out of the pilots' control, regardless of how much training they had.
"You can talk to any pilot that flies in this region, and there's stuff that scares you. : We knew both those guys very well," DeAndrade said about the Brumleves and Rooneys, both of whom were based at Galaxy Aviation. "Both those guys were familiar with this country.
"It'll get anyone."