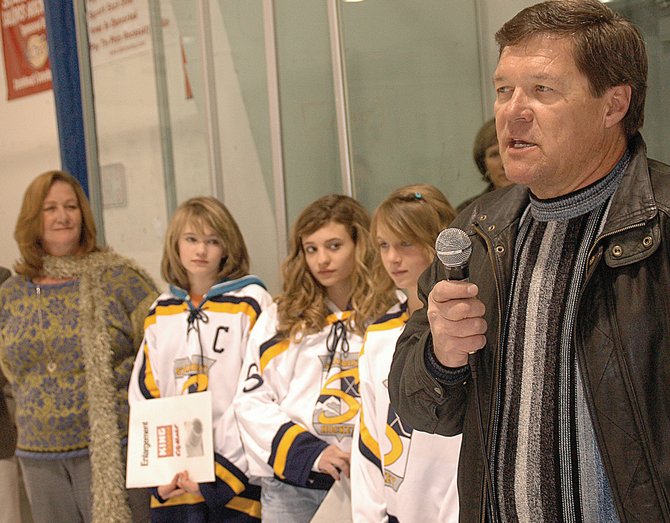 Awards given in memory of local teen hockey player
Steamboat Springs — The ADELE award is meant for a player with the attitude, determination, effort, laughter and enthusiasm regularly showcased by its namesake, Adele Dombrowski.
The three girls who won the award this year all have those qualities, their coaches said.
The 2009 ADELE awards were presented Saturday night in front of a large group of young female hockey players gathered at the Howelsen Ice Arena for the annual Adele Dombrowski girls hockey tournament.
"It's an honor to win the award," said Kelly Borgerding, who was chosen from the Steamboat U12 team to receive the honor. "I never got to meet Adele, but I wish I had because everything people say about her is wonderful."
She was joined on the ice Saturday night by U14 recipient Katie Thielemann.
"I'm really glad I won, because I've always looked up to the people that won before me," Thielemann said.
Aimee Jones was chosen from the U19 team, but was unable to receive the award in person. She and her team are playing this weekend in a Utah tournament.
"Aimee through the years has really shined with all the qualifications of the ADELE award," her coach Alexa Pighini said. "She is very determined and absolutely loves hockey."
Dombrowski died in 2005 at the age of 17. She was an avid hockey player, and the tournament that now bears her name was started to help give girls an opportunity to play hockey.
The success of that effort was evident Saturday night. The awards, presented by Adele's parents, Kris Stouffer and Daryl Dombrowski, were sandwiched between an open skate and a spaghetti dinner, all part of the four-day tournament.
Young girls sporting their team's hockey jerseys swarmed the arena and cheered loud as the winners were announced.
"I miss Adele every day," Daryl Dombrowski said, "but I know she'd love a great tournament like this."
Steamboat success
The two local teams competing in the tournament enjoyed a strong Saturday.
The U12 team bounced back from a 3-0 loss in the morning to win its first game of the season, 3-0, against Aspen.
Steamboat's U14 team also opened the tournament with a loss but beat Summit on Saturday morning, 3-0.
"Our girls stepped it up," U14 coach Herald Stout said. "Our passing was better, and they started playing their positions stronger. Those were the things that didn't work in the first game."
Both teams return to the ice today. The U14 squad plays at 9:45 a.m., and the U12 team plays at 6:45 p.m.