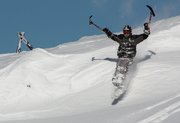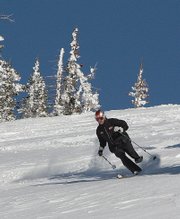 Steamboat Springs — Andy Campbell's aspirations can be summed up with one glance at his sit-ski bucket.
The throne he so rarely likes to leave is old and chipped, with ugly scars of well-worn metal bleeding through the dozens of places the dull orange paint has been scraped away.
Crudely stenciled on the back - easy for all those he blows past to see - is his favorite phrase, "Die Living."
Campbell, a former British soldier who lost the use of his legs in a climbing accident, spent several days spreading his message across the Steamboat Ski Area, then nearly lived the message Friday, skiing at the Legends of Deep Powder event at Buffalo Pass.
"I took a fairly hard landing," he said. "I took a big 20-foot air and flew another 20 feet landing and broke my sit-ski."
As for the experience of riding in the event, a powder-seeking adaptive skier's dream that could become a tradition, Campbell was impressed.
"It was excellent," he said.
A new tradition
Steamboat's Craig Kennedy and his wife, Andrea Kennedy, who together lead Access Anything, put the event together. It featured a half dozen of the world's best adaptive skiers. They got the idea from Dave Genchi, a former employee of Steamboat Powdercats who was injured snowboarding in December 2006.
"It was his idea to do a competition like this, and he got a lot of the funding arranged," Craig Kennedy said. "The idea is just to have powder bragging rights. There's no panel of judges other than crowd reaction.
"We wanted to get some really killer video to help grow the event to have 15 or 20 athletes each year."
The event debuted Friday on the slopes of Soda Mountain, the powder hounds - sit-skiers like Craig Kennedy and Campbell, three-track skiers and blind skiers - catching a lift with Steamboat Powdercats on Buffalo Pass.
"It went fantastic," Kennedy said Saturday, sipping on a cup of coffee while recovering from a week of hard riding and one particularly nasty spill Friday. "We got up to the south side of Soda Mountain, the Holy Grail for the Steamboat Powdercats. They are only able to ride up there about 15 percent of the year."
Campbell was busy at work Saturday trying to piece his "Die Living" ride back together. An avid skier who spent most of last season touring North America, he said he doesn't ever like to miss a day on the slopes. He has an even more pressing time limit now, however.
"I was invited to ride in the X Games," he said. "I'm feeling fine. It's the equipment that's broken, but we should be able to get it ready in time."
A growing event
The Legends of Deep Powder event capped a busy week for Steamboat's adaptive skiing community. Access Anything and Adaptive Adventures teamed together to host skiers from across the country for a fourth annual ski camp.
That event, technically unrelated to Friday's skiing, has continued to grow.
"We had about 18 disabled participants our first year," Kennedy said. "This year, we had about 40."
Adaptive ski camps are available throughout the winter at resorts across Colorado. Steamboat's is unique in that it neither caters to rookies nor reaches out to hard-core, competitive adaptive skiers.
"A lot of the other camps are more orientated to instruction or racing," said Ryan Baker, a former Steamboat local who returned for the camp. "What they've done with this camp is create one that will cater to people who are interested in an all-mountain camp."
The event was filled with experienced adaptive skiers and coaches, including Matt Feeney, who co-founded Adaptive Adventures.
They didn't all attack the slopes quite the way Campbell did. He said there's a similar philosophy among the whole group, however. It's best summed up by the black letters blasted against his banged-up orange chariot.
"Most guys in wheelchairs got there through some kind of near-death accident or traumatic event," he said. "That reaffirms the fact that you have got to live your life. You have one life, and you need to get out there and make the most of it.
"It's just about, well, die living."
- To reach Joel Reichenberger, call 871-4253 or e-mail jreichenberger@steamboatpilot.com