Audio clip
Jon Roberts interviews with city council
Document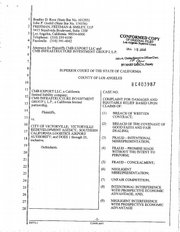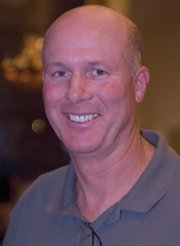 Steamboat Springs — The owner of a business suing the city of Victorville, Calif., for $33 million is urging people to consider the source when Jon Roberts, the man set to become Steamboat Springs' next city manager, dismisses the lawsuit as "bogus."
Pat Hogan is the owner of CMB Export and CMB Infrastructure Investment Group. He is suing the city of Victorville for three counts of fraud, breach of contract, unfair competition and more, stemming from the city's plans to raise as much as $200 million from foreign investors. Roberts and other Victorville officials have described the lawsuit as unfounded.
"I've spent tens of thousands of dollars on this lawsuit already," Hogan said, "and it's not to be frivolous."
Roberts is the city manager of Victorville. At his public interview before the Steamboat Springs City Council earlier this month, Roberts said the lawsuit "doesn't involve me. I'm not named in any way." But although Roberts is not individually named as a defendant in the lawsuit, he is the chief executive of three parties that are: the city of Victorville, the Victorville Redevelopment Agency and the Southern California Logistics Airport Authority. His name is mentioned throughout the suit.
Roberts referred any questions about the lawsuit to Victorville City Attorney Andre de Bortnowsky.
On Tuesday, the Steamboat Springs City Council voted, 5-2, to ratify a contract with Roberts but to withhold City Council President Loui Antonucci's signature on the document pending further background checks. Council members Meg Bentley and Walter Magill dissented, preferring to have the contract signed immediately. If no red flags are raised, Antonucci could sign the contract as early as Tuesday.
Hogan's company serves as a go-between for foreign investors and entities that want to take advantage of U.S. Citizenship and Immigrations Services' EB-5 investor visa program.
CMB is authorized by the federal government to offer investment opportunities to immigrant investors for projects within the boundaries of CMB's "regional center." CMB's center includes several closed military bases in California, including the former George Air Force Base that now is Victorville's Southern California Logistics Airport.
About a year ago, the city of Victorville began talks with CMB regarding the program and securing investors for a public works project at the former Air Force base. In February, former Victorville Mayor Terry Caldwell wrote a letter authorizing CMB to raise capital for the project. In April, CMB and Victorville officials, including Roberts, traveled to China and South Korea to market the program and recruit investors, and the city of Victorville signed a memorandum of understanding with CMB.
The city since has signaled to CMB that it has no intention to work with the company and instead intends to pursue its own designation as a regional center to recruit foreign investors on its own.
CMB alleges that the city "never intended to abide by either the MOU or their other representations. : Instead, plaintiffs are informed and believe that the negotiation of the MOU, and its subsequent execution, were nothing more than a phase of an ongoing and continuing fraudulent scheme : to gain access to CMB's business model, know-how, key contacts and other confidential information - and use those assets and information to improperly and unfairly compete against" CMB.
De Bortnowsky said the city waited until the end of the MOU's 60-day exclusive negotiating period before pursuing other options, and he said the city's decision does not violate a two-year confidentiality clause in the MOU because the city is structuring its program independent of any information it learned from CMB.
"We weren't stupid enough to : breach a provision we were totally aware of," said de Bortnowsky, who also argued that nothing the city has done prevents CMB from continuing its operations. "The biggest issue is there really are no real damages suffered by the company."
The city of Victorville has not filed any court documents in response to the lawsuit. A case management conference is scheduled for April 15 in Los Angeles.