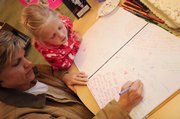 Steamboat Springs — Currie Meyer is about as far away from the stereotypical image of a stern librarian as one can get.
On Friday afternoon, dozens of local children and parents gathered in the children's section of Bud Werner Memorial Library to say goodbye and show their appreciation for Meyer, who is leaving after eight years as the youth services librarian to take on a new position as lead librarian for the Council Tree Avenue branch of the Fort Collins Regional Library District. Meyer said construction of the Council Tree Avenue library should be done in March; she starts work there near the end of the month.
"She's going to be missed, for sure. I'm really happy for her, but finding someone to fill her shoes is going to be difficult," parent Christina Ciufo said.
As she signed a large book filled with heartfelt, color-pencil-crafted farewell messages to Meyer, Ciufo said she was impressed by Meyer's approachability as a children's librarian and by the time she always seemed to make for Ciufo's two daughters, 7-year-old Matisse and 2-year-old Hazel.
"You can tell she's very dedicated to her work, but she also always makes the time to stay," Ciufo said. "She's very dedicated to the people who use this space."
Along with the many storytelling and outreach programs she organized in her time as a youth services librarian, Meyer assisted with the design and ideas behind the expanded children's section in the newly renovated library. She also oversaw the 12,000 or so pieces in the library's children's collection.
"One of the highlights of my whole career was enlisting over 300 children and parents over the summer to move all the books over from the old library," Meyer said.
Meyer told the children who frequent her children's section that she'll still be at the library, she'll just be in a different town.
"I tell the kids that moving on is what life is all about," Meyer said. Among the programs Meyer runs as youth services librarian are several story-telling times, including Baby-time, for children as old as 24 months; Hodgepodge Story-time, a story and crafts program for children 3 and older; and Pajama Story-time, a themed event that invites children to wear their pajamas to hear a story.
Meyer said the people who come to those events are what she'll miss most about the Steamboat library.
Liz Rawlings, a children's programs assistant for the library, said Meyer "does it all."
"She just loves kids, and I think she's done a really good job combining fun and education," Rawlings said.