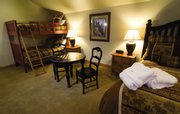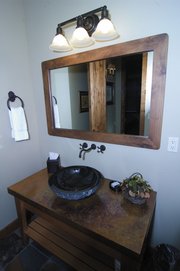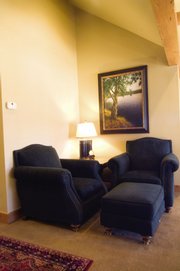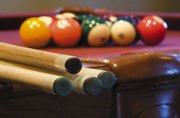 About The Porches
§ Homes are available for purchase as whole ownership ($2.24 million to $3.34 million) and in six-week intervals ($340,000 to $450,000)
§ The largest homes at The Porches are referred to as the Grand 5 model for their five bedrooms. They measure 5,000 square feet.
§ Developer Bruce Shugart prides himself on locating duplex homes on the site in a way that eliminates anything resembling a cookie-cutter neighborhood. Each structure takes on its own appearance.
§ Shugart's signature is his extensive use of unusually tall windows to allow as much natural light as possible to flood the homes.
§ Homes feature slate mudrooms, full laundries in the whole-ownership residences, and a stacked washer and dryer in fractionals.
§ Powder rooms make a statement with their raised granite bowls and retro farmhouse faucets.
§ Get to know Holly: Director of Housekeeping Holly Poteet takes a personal interest in all of the owners who seek her out for conversation. It isn't unusual for the staff members of Pinnacle Resort Management, who take care of The Porches, to be invited to owners' homes for Thanksgiving dinner.
Steamboat Springs — Bunkhouses once were a necessity on Yampa Valley ranches. Today, bunk rooms are a practical luxury in the most carefully planned vacation homes at the base of the Steamboat Ski Area.
There are built-in sleeping bunks in $5 million homes at Catamount Ranch that are made of hardwood, and bunks emulating those in a Pullman railroad car - complete with privacy curtains - at a spectacular home in Agate Creek Preserve.
At The Porches of Steamboat, the bunk rooms were carefully designed to build versatility into homes that have been thoughtfully planned to allow extended families to gather for relaxing vacations.
The delicious anticipation of large family reunions, followed closely by the stress of pleasing daughters- and sons-in-law, is a familiar facet of modern American life. It was on comic display this holiday season in the hit movie "Four Christmases."
Bruce Shugart and his associates at The Porches at Steamboat took the phenomenon into account when they planned their comfortably furnished homes near the base of the Steamboat Ski Area.
"The most successful room in the homes at The Porches is the bunk room," Shugart said. "That's the feedback we get from our owners. The bunk room works for a young mom and dad with toddlers. If your college student brings half the dorm to Steamboat for the holidays, they can all fit in there and leave their duffels out on the floor.
"We made sure there was room for a game table. If you have a bunch of cousins getting together, they can go in there and just giggle and have fun."
The family gathering
Emilie Crider of Pinnacle Resort Management said adaptability was key when the bunk rooms were planned. In addition to two bunk beds (four berths) and the only bathtub in the homes, the bunk room has a king- or queen-sized bed.
"If you're hosting a bunch of women for a girls week, it works as an adult bedroom," she said.
The effort Shugart has put into creating homes that meet the needs of extended families is market-driven. He visualizes successful baby boomers who have reached that stage in life where they have three married children and are looking forward to the arrival of their first grandchildren. Or, perhaps the next generation already is on scene.
Either way, graying boomers are sensitive to the challenges of keeping everyone happy and entertained. At the same time, they are evaluating their portfolios and careers and plotting their exit strategies.
It's become a familiar theme in mountain resorts - tapping into the urgency baby boomers are feeling to be able to gather their far-flung clans and leave them the legacy of a special home in one of the world's most appealing destinations.
'A real neighborhood'
Shugart's company, Structural Associates, is based in Glenwood Springs and has built spectacular homes in the Roaring Fork Valley for an international clientele. He has the ability to look at the Yampa Valley with fresh eyes. What he sees is a real community with a leg up on the competition in terms of its appeal to extended families.
"Steamboat is more family oriented than anywhere else" in the mountains, Shugart said. "This isn't a show-and-tell town like the others. It's not who you are, but what you are doing" that counts for something here.
He also believes his development has a niche that cannot be replicated at the base of Mount Werner.
"There's an unusual level of security at The Porches," he said. "And it's becoming a real neighborhood. Most of our owners tell us they spend more time here than they originally intended. You can let your children play outside here and not have to think about it."
The interior roads that wind through the development of duplex homes at The Porches are public streets, but there is no vehicular traffic to speak of. And it's within easy walking distance of shopping, dining - even the community's newest movie theater.
Details make the difference
The planning for extended families in the interior of The Porches homes goes beyond the bunk rooms.
"In a home that offers 5,000 square feet, you feel more like you're on vacation," Crider said.
The master bedroom, intended for the owners, is on the main level and well-separated from the other bedroom suites as well as the reading alcove on the second story landing and a garden-level recreation room. The recreation room is large enough to accommodate an oversized sectional couch, bar and Foosball and billiards tables. There also is a bedroom suite off the rec room.
The bedrooms are luxurious and have ample room for an easy chair and floor lamp for readers. However, they are deliberately a little smaller than in some of Steamboat's competing vacation retreats.
That is by design, Shugart said. While the bathrooms attached to each bedroom boast a luxurious amount of space, the bedrooms were kept relatively compact so that the square footage could be invested in shared spaces such as the rec room.
It also explains why the kitchen has a stone or hardwood breakfast bar big enough to seat between six and eight people, and the dining table comfortably seats 10.
When you're trying to stoke the furnaces and send a family of 16 out for a powder morning, it's those details that make all the difference.