Try krav maga
What: High Altitude Krav Maga
When: Classes offered Monday through Thursday evenings
Where: 2851 Riverside Plaza, Suite 140
Cost: $10 per one-hour class; one-, six- and 12-month memberships available
Call: Nick Bosick at 970-819-4862
More information: www.kravmaga.com
Photo Gallery
Staying fit: Krav maga sequence 2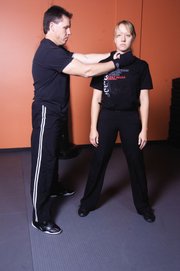 Photo Gallery
Staying fit: Krav maga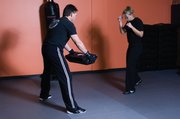 By the end of a heart-pumping, gut-busting krav maga class, even the hard-core participants are dripping and gasping.
Krav maga is the fighting style used by the Israeli Defense Forces. It's structured to be appropriate for men and women of all shapes and sizes and includes a grueling physical fitness component. Nick Bosick, a detective with the Steamboat Springs Police Department, offers classes with instructor Holly Wilde at High Altitude Krav Maga in Riverside Plaza.
"There's a huge physical fitness component," Bosick said. "We make people sweat, but at the same time, they're learning."
An Eastern European Jew, Imi Lichtenfeld, invented the self-defense and hand-to-hand combat method in the mid-1900s. He taught it to the Israeli Defense Forces after Israel was founded, and later adapted krav maga for civilians. Krav maga means "contact combat" in Hebrew, Bosick said.
Bosick takes that literally.
High Altitude classes include one-on-one fighting, with one person holding a pad while another slams it with fists, knees or shins.
Participants, after jumping jacks, sit-ups and push-ups, start by learning the proper fighting stance. People who are right-handed place their right leg back so their feet form two diagonal points of a rectangle. All 10 toes should face forward, which allows the fighter to explode into action. The back heel is up, and the knees are bent. The hands are in front of the face, a bit above chin level and 6 to 8 inches apart.
From there, the fighter can defend and attack. Although krav maga has the feel of boxing and martial arts, it's different, Wilde said.
"It's not meant to be pretty," Wilde said. "It's meant to keep you safe."
Krav maga incorporates several principles, Wilde said:
- Fighters use their instinctive reaction to defend themselves.
- The techniques are applicable in more than one situation.
- Techniques address the immediate danger and are usable by people of all shapes, sizes and athletic abilities.
- Each defensive reaction includes a counterattack.
Bosick teaches Tuesday and Thursday, and Wilde teaches Monday and Wednesday classes. Beginners are welcome.
A krav maga class Wilde taught in the fall ended with a dog pile exercise. One person lay flat, and five others piled on top, pressing pads down. The person on the bottom had to wriggle out and then run forward to throw punches at a pad or heavy bag.
Even the smallest person accomplished the feat.
"What we believe is that the person who has the heart to keep fighting is the person who will win the fight," Wilde said.