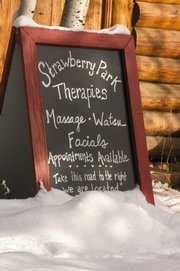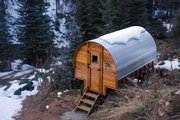 Getting there
Strawberry Park Hot Springs is at the end of an unpaved county road that is winding and sometimes steep. Along the final two miles to the springs, Routt County regulations limit winter travel to vehicles with four-wheel drive or two-wheel drive vehicles with tire chains. The county has imposed stiff fines to back up that mandate.
Fortunately for visitors with rental cars, there are two excursion companies that take the worry out of getting to the hot springs in winter.
For information about Sweet Pea Tours and Hot Springs Adventure Tours, plus the details of renting a cabin and hot springs rules (no alcohol), visit www.strawberryhot...
Steamboat Springs — Within the realm of vacationing close to home, there are few stay-cations, as they've come to be known, that can boast the restorative powers of an overnight excursion to the Strawberry Park Hot Springs.
Steamboat's famous hot springs are just 5 miles from downtown and the equally famous Heart Spring at Old Town Hot Springs. Both offer a quality soak, but if you seek to get out of town without really leaving, it's Strawberry Park that has the most to offer. Whether you're from the Yampa Valley or the Front Range, we can promise you a memorable experience at Don Johnson's funky but charming little resort in its own secluded valley.
True, hot water is hot water, and you can soak in your own hot tub back at the condo. But if you're making that assumption, you've been missing the 'Boat for all these years.
What's so magical about spending the night at the hot springs? Yes, it's the natural setting and the meteorites streaking through the sky. But there's a quality to a soak in a natural hot spring that defies words. We'll attribute this indefinable quality to the vapors generated by the mineral-rich spring.
The water in Strawberry Park comes out of the ground at 147 degrees Fahrenheit. Johnson said a geologic fault runs right through the hot spring and that the water flows upward through a fractured vein of quartzite. One geologist in the area has theorized that the source of the heat lies deep (perhaps thousands of feet) beneath Hahn's Peak, a relatively young volcano.
Manager Joe Stepan moderates the water temperature to a range between 103 and 105 degrees simply by adjusting a wooden sluice gate. The gate determines how much of the cold water from Hot Springs Creek is allowed to mingle with the water flowing from the hot springs.
The mineral vapors come in the form of sodium, chloride, fluoride and bicarbonates that have been confirmed in Steamboat Springs during formal chemical testing.
Nervous about nudity?
Don't be. Clothing is optional at Strawberry Park Hot Springs after dark. If you think sharing the large hot springs pools with naked bathers might make you uncomfortable, be reassured. Unless you choose to visit on a full moon night, you're unlikely to be able to discern who is wearing a bathing suit and who is not.
There is a changing room in the form of a teepee, adjacent to the springs.
We recommend you make reservations well in advance, secure a cozy but rustic guest cabin for $60 a night (includes admission), arrive before night fall so that you can form a mental picture of the layout of the various pools, but plan to return after dark (possibly more than once) to maximize your visit.
Overnight guests and day-soakers are required to leave the springs by midnight. However, overnighters can enjoy the relative privacy of the hot pools from daybreak until 10 a.m., the earliest the public is admitted with the $10 daily fee.
Springs' future
Could an earthquake someday alter the Strawberry Park Hot Springs?
"I try not to think about those things," Johnson said.
All the more reason to get it while you can.
It's an experience that will keep you coming back, no matter how far or near you are to the Yampa Valley.